Published annually, the Tracking SDG7: The Energy Progress Report provides the most comprehensive look available at the world's progress towards global energy targets on access to electricity, clean cooking, renewable energy and energy efficiency. Prepared by the custodian agencies for the SDG 7 indicators – the International Energy Agency (IEA), the International Renewable Energy Agency (IRENA), the UN Statistics Division (UNSD) at UN DESA, the World Bank, and the World Health Organization (WHO) – this year's report gives the international community the latest global dashboard to register progress on the SDG7 targets.
For the third time, a series of Policy Briefs on SDG7 and its interlinkages with other SDGs have also been compiled by the multi-stakeholder SDG7 Technical Advisory Group, composed of experts from governments, UN organisations, International Organisations and other stakeholders, convened by DESA, in support of the High Level Political Forum. This document, including the Policy Briefs and the Summary for Policymakers, was developed under the auspices of the multi-stakeholder SDG 7 Technical Advisory Group, convened by UN DESA. Under the leadership and able facilitation of two co-facilitators of the group, Sheila Oparaocha and Hans Olav Ibrekk, the members of the group have demonstrated exemplary commitment and a true spirit of multi-stakeholder collaboration.
Download 2020 Tracking SDG7 Report here.
Download the Policy Briefs in support of the High-Level Political Forum 2020 – Accelerating SDG7 Achievement in the Time of COVID-19 here.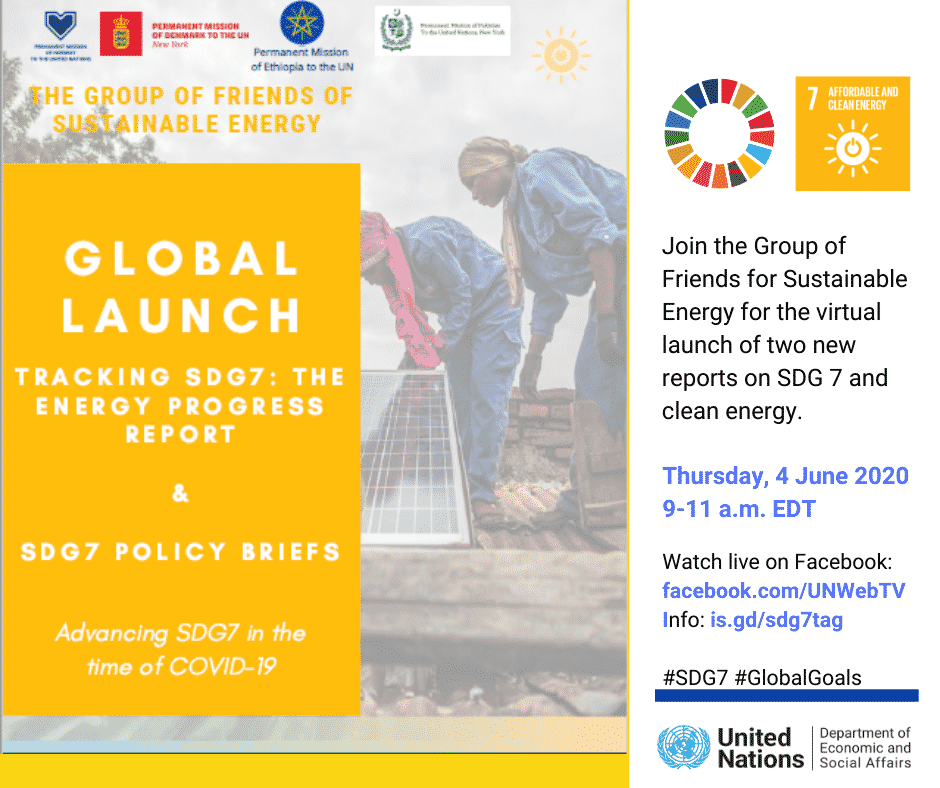 The Group of Friends of Sustainable Energy virtually presented the SDG7 Tracking Report and the SDG7 Policy Briefs on Thursday June 4th, 9-11am (EDT).
Download the presentation made by the co-facilitators of the SDG7 TAG during the launch here.
Download the presentation made by the SDG7 custodian agencies during the launch here.