ENERGIA's Women's Economic Empowerment Program
In 2014, ENERGIA launched its Women's Economic Empowerment (WEE) program, which aims to empower women economically through supporting their energy enterprises in last mile communities. Currently, ENERGIA collaborates with five partners (Centre for Rural Technology- Nepal (CRTN), Energy for Impact, Practical Action Eastern Africa and Solar Sister) who work on the ground in Asia and Africa.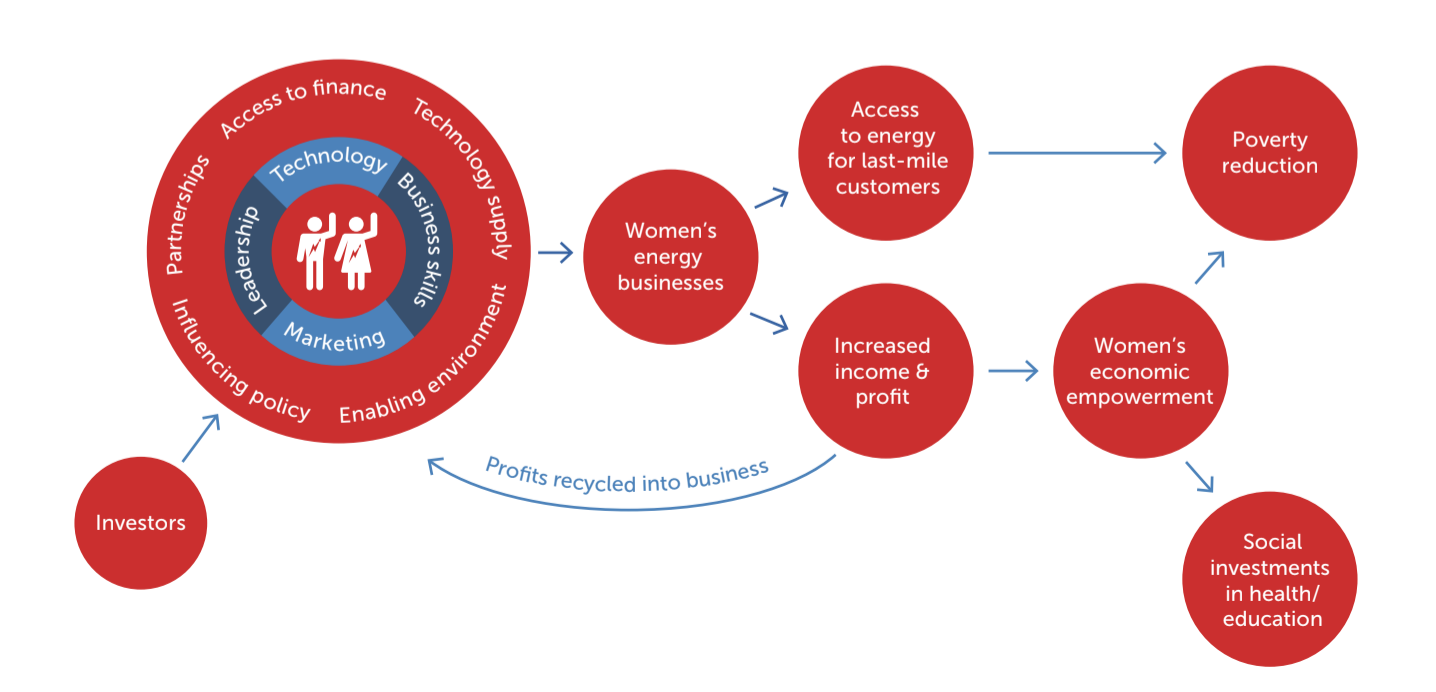 The program design is centred around our belief that, because the factors limiting women's entrepreneurship are manifold and intertwined, integrated measures are needed to realize women entrepreneurs' potential. In line with this belief, the partners provide:
an integrated support package including skills development on technical, managerial, leadership and empowerment aspects of energy businesses;
ongoing mentoring and financial advice on business planning, market strategies, how to approach suppliers, financial institutions and local government authorities; and
partnership-building between various actors in renewable energy value chains supporting women-led renewable energy businesses.
For more information, please read Supporting last-mile women energy entrepreneurs: What works and what does not.
The link between energy, poverty and gender
Poverty is usually referred to as lack of access to income, empowerment, basic opportunities and services. These circumstances are often inextricably linked to inequalities and social exclusion. In this context, the recognition of energy as a critical enabler to poverty reduction and a prerequisite to the achievement of multiple SDGs has marked a revolutionary shift. Modern energy services and technologies can contribute to releasing people from the vicious cycle of poverty and transform lives by opening socio-economic opportunities, including improving people's living conditions, meeting their basic and productive needs, increasing income through energy business development and livelihood opportunities.
However, lack of access to modern energy solutions and services still affects nearly half of the world's population, particularly in developing countries, rural and remote areas. In addition, the impacts of energy poverty are differentiated by gender. Not recognizing women's energy needs and failing to apply a gender lens to energy policies and actions contribute to perpetuating poverty, drudgery and gender inequality.
Economic empowerment
Gender inequalities are strongly connected to poverty, limited security and limited access to opportunities. At the same time, poverty reduction is closely linked to economic empowerment, control over and access to resources and technologies, including in the energy sector. In these terms, women's economic participation in the energy sector through business development offers multiple benefits. It not only contributes to the economic advancement of women and their communities, but also challenges inequalities, gender norms and traditions by enhancing women's economic independence, self-confidence and agency. At the same time, the deployment of clean energy technologies improves the lives of rural communities that lack access to electricity and clean cooking technologies, impacting also interlinked areas of development, including health, education, environmental protection and climate change.
Why women's are change agents in the energy transition
Multiple studies have demonstrated that the majority of poor people are women. Unfortunately, the energy sector is no exception. Women disproportionately bear the brunt of energy poverty due to societal norms, differences in responsibilities, as well as possibilities to access energy services. The differences in men's and women's energy needs are frequently not taken into account. This means that energy interventions, livelihood opportunities, and business support packages that work for men, do not necessarily positively impact women. These processes fail to liberate women from the stranglehold of poverty, and further limit their access to energy, appliances, and the potential benefits of energy services, thereby reinforcing a vicious circle of poverty.
Women are not only critical as users, but also as energy professionals and decision makers. The involvement of women in energy-system supply chains as entrepreneurs, employees and decision makers – particularly in non-traditional roles – is a win-win situation. When given equal opportunities, women perform as well as men as entrepreneurs. Economic advancement enhances their own welfare and builds their confidence, leadership and business skills. Women tend to invest more of their money in education, healthcare and children's welfare, bringing positive changes in the lives of their families and communities. The opportunity to earn an income and to lead a business, challenges social and cultural norms, which prescribe women as primary responsible for household and reproductive activities, limiting their access to male-dominated sectors, their ability to engage in productive opportunities, or to take on roles considered 'not appropriate' for women (e.g. becoming solar technicians). For energy businesses, women are uniquely positioned to access untapped markets in last-mile communities, thereby increasing the use of clean energy in these areas. In particular, they are able to leverage existing social networks and form trusting relationships with potential customers – especially other women. This positions women as change agents in the energy transition, rather than victims of energy poverty or beneficiaries of energy access.