Financing is a big challenge in expanding energy access to the last mile, and women entrepreneurs face even larger bottlenecks than men when engaging in this field. A lot of the difficulties are related to non-financial barriers. These include, among others, the legal and regulatory environment, education and awareness among women, and constraints within financial institutions such as lack of interest in female clients due to cultural barriers.
ENERGIA's partners in the implementation of the Women's Economic Empowerment (WE) Programme have been helping women overcome those obstacles in various ways. The two examples presented below come from Asia-Pacific. Our partner in Nepal has been working with local financing institutions, and the partner organisation in Indonesia with credit unions.
Piloting a "cash and carry" financing model with a credit union
Kopernik Solutions, ENERGIA's partner in Indonesia, works with women to develop sustainable supply chains connecting clean energy technology with last-mile communities. The Wonder Women (Ibu Inspirasi) get trained in technology use and maintenance, sales and marketing, bookkeeping, public speaking, and agency and empowerment.
In October 2016, Kopernik started to pilot an access to financing model with a credit union. The recruited micro and small enterprises are registered as members of the credit union, and Kopernik helps them get started by making it possible for them to pay the membership fee in installments. Participating entrepreneurs have to deposit monthly savings to their account, and the total amount of savings determines the amount they can borrow. Namely, the loan ceiling for each member is set at five times the amount of his/her savings. Credit union members also receive a portion of the profits from the credit union on an annual basis.
These linkages to financial institutions support the new "cash and carry model" adopted by Kopernik. This model requires the entrepreneurs to pay for the technology they sell up front. Their customers are also required to pay for the products right away (instead of in installments as was the case under the previously implemented consignment model, which was putting a significant strain on the entrepreneurs' cash flow).
Credit unions are available in almost every subdistrict in the region in question, and payments for the purchase of technology sold by women entrepreneurs can be deposited at the nearest credit union branch.
Kopernik is planning to expand the partnership with credit unions, cooperatives and other financial institutions to its entire programme area, working with institutions that offer low interest rates. Additionally, Kopernik intends to provide collateral through the loan guarantee fund to ensure access to larger loans and better terms for the participating Wonder Women.
Making a case for financially supporting women entrepreneurs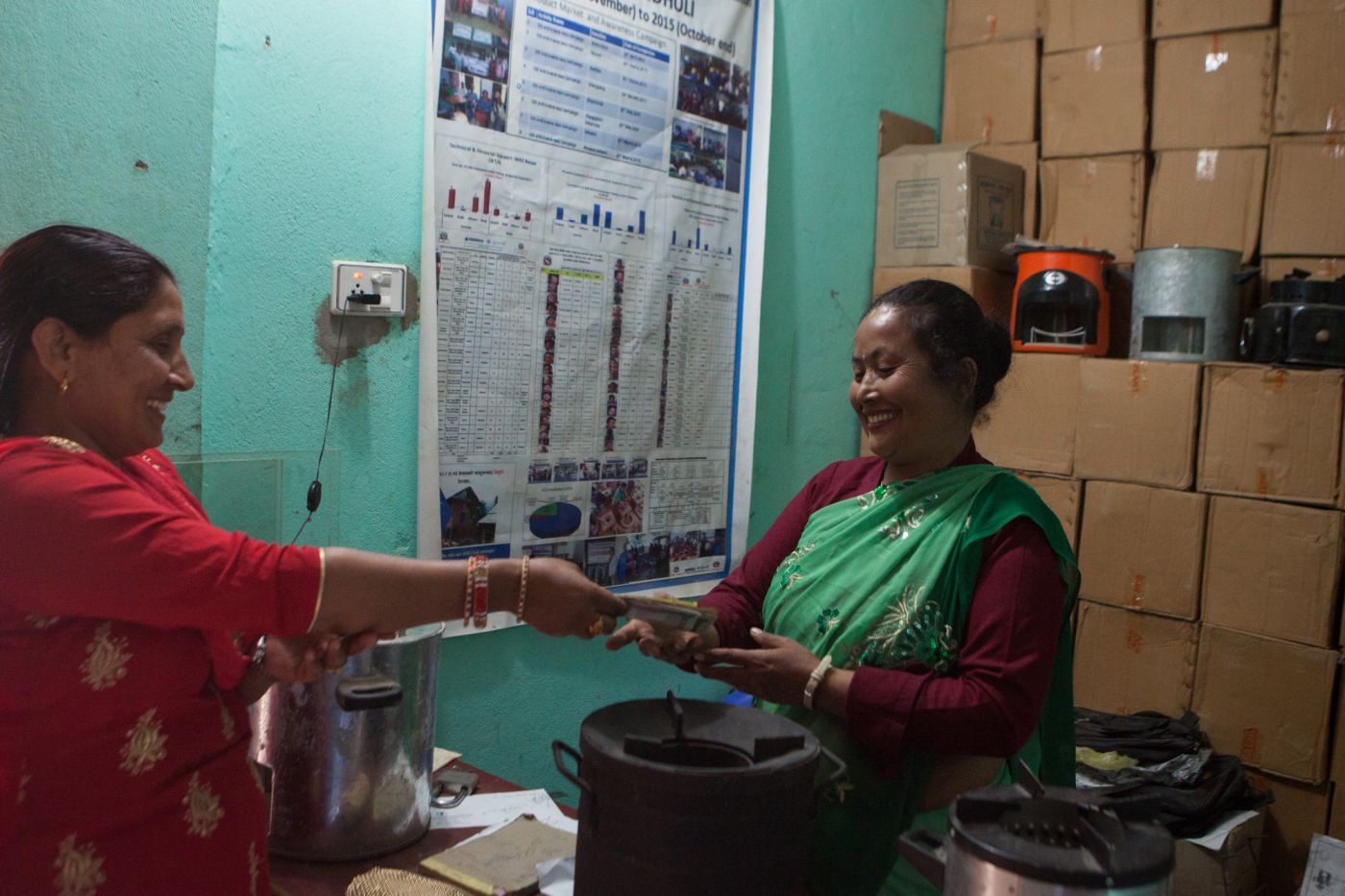 In Nepal, the ENERGIA funded project (WEE-Nepal) works directly with community-embedded organisations that purchase electricity in bulk from the grid and retail it to their users within their command area. Working through these Community Rural Electrification Entities (CREEs) enables WEE-Nepal to support women entrepreneurs in distant and remote districts.
Center for Rural Technologies (CRT) Nepal, the implementer of WEE-Nepal, has been encouraging CREEs to develop working relationships with local financing institutions and government agencies to facilitate loans.
Improved cookstoves, which have not typically been regarded as a loan product, are one focal point of CRT Nepal's efforts to expand access to finance for female entrepreneurs. For instance, a wholesaler in Sindhuli district who supplied more than 4,500 improved cookstoves in 2016 tried to get a loan from a development bank in the district. Although the central team of the WEE-Nepal project facilitated the process, the bank displayed a lack of confidence in the business and did not grant the loan. On the other hand, women entrepreneurs in several other districts were able to secure funds from local financial institutions.
CRT Nepal reported that 36 local financial institutions had supported 107 women entrepreneurs, disbursing the sum of NPR 8,520,734 (Euro 74,000) by the end of 2016.
To level the playing field and create opportunities for other women entrepreneurs who are improving energy access at the last mile, CRT Nepal has been initiating meetings with local financial institutions, trying to explain the importance of and the business case for financially supporting women entrepreneurs.