A review of the pilot projects funded by the "Gender and Energy Innovation Facility" in Tanzania
To bridge the gender gaps throughout the energy supply chain and in decision-making, ENERGIA, EnDev, Modern Energy Cooking Services (MECS), Hivos and the Swedish International Development Cooperation Agency (SIDA), launched the Gender and Energy Innovation Facility (GEIF) in July 2020. The Facility supports pilot projects in Kenya, Tanzania and Nepal that develop, test and evaluate innovative approaches to address the persistent gender energy challenges. As projects in Tanzania have recently come to an end of their pilot phase, we reflect on their achievements during that period, as well as the larger learnings from the GEIF.
Using technology to break gender stereotypes
With digital strengths galore, Nukta Africa Ltd. focussed on changing the next generation's approach to gender roles in cooking, in a number of diverse ways.
They created a website, called "Jiko Point", where they publish a range of blogs to promote cooking through clean energy, and now have a focus on promoting women that sell clean cooking equipment.
One of their assumptions was that by providing a website where people could post articles (in their case about clean cooking and cuisine) anonymously without disclosing their gender, they would encourage more writers. However, they saw that actually offering the option not to reveal their gender had little effect on the number of writers.
Female developers have developed the prototype of "Jiko Sokoni", an application where women sellers of clean energy items were invited to sell their products. Through conversations with organisations who work closely with female clean energy sellers, such as Forum CC and Dorucs, Nukta found a group of ten testers for the app.
Another component of their project has been the production of the cooking show "Mwanaume Jikoni", "Men's Kitchen". These episodes show and celebrate men cooking traditional meals, whilst talking about their cooking and eating habits. To date they have produced 10 episodes, all viewable on their show in YouTube. The series covers traditional and international dishes, as the men also discuss the role of gender and clean energy in cooking.
Producing 10 episodes was no small feat, as Nukta had to overcome resistance by men to be filmed. Quite often this was because they didn't want to be filmed cooking because of societal pressure, or be filmed in their kitchen as they didn't want others to see it. In order to get more men open to being filmed, Nukta set up their own studio so they had a neutral place to film.
On both their YouTube channel and website, men account for the majority of their audience, with 66 and 54 percent of the overall readership being made of young men, respectively. By targeting the tech savvy generation of people between 18 and 30, it is certainly influencing others through providing positive male role models.
Their project is continuing through a scaling-up phase, where they are implementing and consolidating their learnings from phase one. They will start by showcasing female clean cooking entrepreneurs on their website. This should lead to increased awareness of the products, the sellers and in turn their sales, thanks to their growing audience. Alongside this they will produce a series of video tutorials that will be shared on their YouTube channel, to support the female sellers develop their business and marketing plans.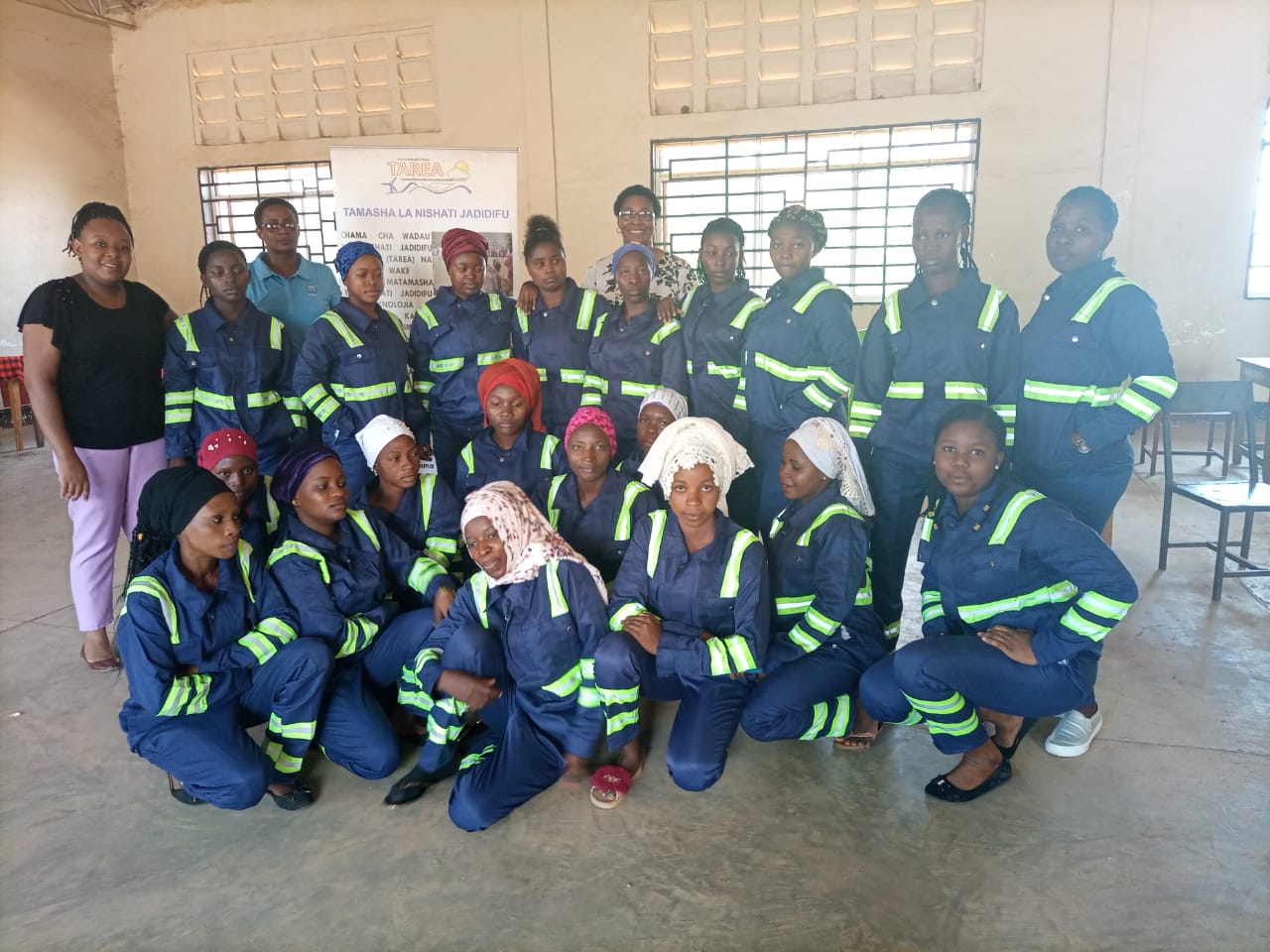 Involving young women in the installation of solar products
Emma Laswai, Deputy Executive Secretary of Tanzania Renewable Energy Association (TAREA) is making a strong case for changing the approach to educating women to be technicians in the field of solar energy technology.
Understanding that women are left behind in technical professions for many reasons, including neither having access to tools nor being socialized in using and handling them, TAREA proposed a project to provide women with training, mentors and a tool-box.
TAREA worked across eight chosen wards and started extensive activities in onboarding support and mentors, whilst promoting the training in this new profession. Knowing that mentors in this sector would most likely be male, TAREA wanted to ensure the males were suitably trained and aware of the gender imbalance and obstacles in transferring knowledge and skills to young women.
This led to developing a set of guidelines for the male mentors. Through the mentoring, the women gained knowledge and skills to be sold on the market, in the field of energy.
TAREA was at first concerned about not getting enough women applicants who would then finish both the training and the mentorship process. Since women are still largely tasked with the kind of activities that keep them closely tied to home and family, their mobility is often restricted as well as their freedom and opportunities.
Over 70 women applied for 20 trainee positions and thus the interest of women and their perception of themselves as having a place in the new (tech) profession and the role significantly exceeded expectations.
TAREA paid special attention on engaging ward leaders to explain the value of their training offer, which was available also to school drop-outs. The community engagement efforts were instrumental in getting the buy-in of local communities and spreading the word about their training program. Twenty female trainees are being trained. They are aged between 18 and 31, including many who had not been able to complete basic education to poverty and early pregnancies.
The training consisted of nine days where the women learnt how to safely and correctly install solar solutions, with a focus on household solar units. In addition to this, there were visits to two installation sites and four retail shops alongside their mentors before heading back to their wards.
While only two women dropped out of the training, all the others completed it and one of them even decided to seek further education and training, and enrolled into a two-year higher education institution in the field.
During the training, TAREA continued researching and addressing various subliminal messages women receive about not belonging in this profession. This includes things such as access to knowledge and skills, where the majority of students or workers in this field are men, and therefore women never see any representation of themselves in these courses or jobs. Another area of not belonging is linked to their relationship to tools as well as looking and feeling like they belong in the profession.
In turn, TAREA addressed the issue of women lacking dedicated protective clothing and footwear by customising it to allow female technicians to feel comfortable and go to the toilet easily. Through a dedicated workshop the female trainees worked with seamstresses in designing their own work clothes and discussing how the clothes but also the profession "fits" women.
Following the nine-day training the women solar technicians received work clothes and toolboxes in order to start working in the trade and practising their new profession. They were then mentored and assisted in establishing a network of potential clients as well as putting into practice everything they had learned in training. The project team worked on coordinating the mentorship process as well as finding partner institutions and businesses that would be interested in having women technicians work on their solar installations. Right now they have 24 clients, including households, schools, health centres, churches and businesses.
TAREA also conducted sensitisation events where women technicians, their mentors and project team talked to local communities. TAREA and the women presented the project itself and their services with the aim of attracting more business for the new solar technicians.
As they have been successfully awarded a second grant for a scaling up phase, Tarea is now striving to establish a mobile solar technician academy, run events to promote the services that the female solar technicians can offer and generate a system of scholarships for young girls and women to access the skills and knowledge needed in the sector.
A new, politician-centred approach to advocate for clean cooking
The Tanzania Gender and Sustainable Energy Network (Tangsen) brought a very original approach to the issue of clean cooking and gender: to work with local councils, especially women in the local councils, in order to impact systematic change in energy and cooking policies, to ensure a clean cooking strategy and plan.
In order to understand the politicians' interest, Tangsen started by mapping policy in the field of clean cooking and contacting councilors. They continued with an in-depth mapping of the policy environment, which helped them understand the regulations, the political priorities and the hierarchy and bureaucracy behind the decision-making. It proved a complex job that the team approached with understanding and patience.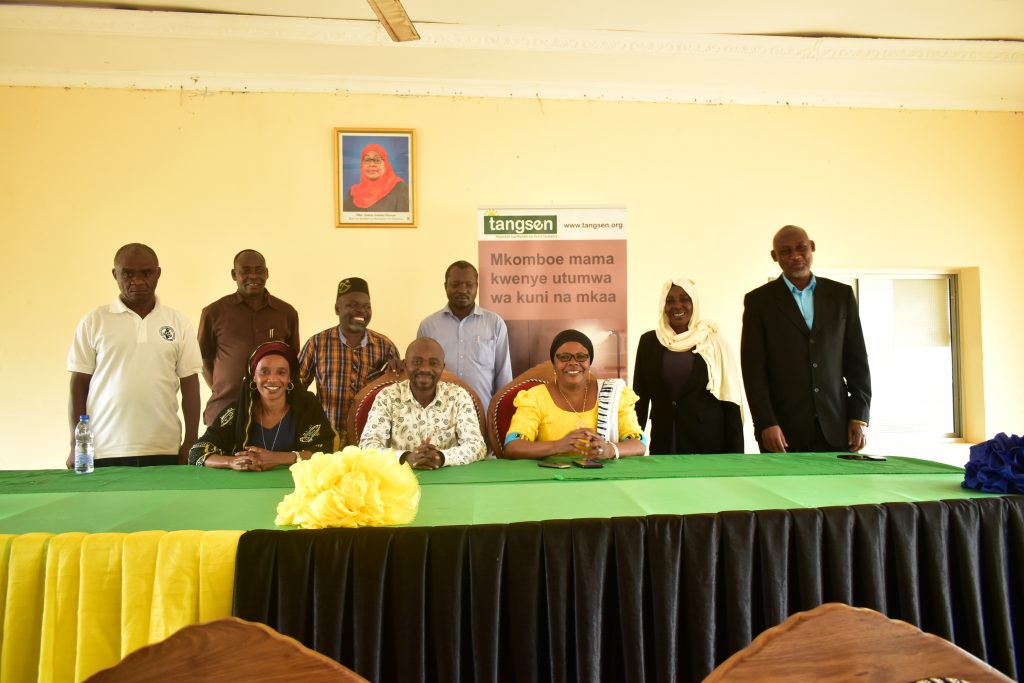 The advocacy endeavor was kicked-off by reaching out to district officials at Kisarawe, staff of the Community Development Office (CDO) and District Executive Officers (DED). Seven wards and their councilors were identified for assessment and further involved in researching and advocating clean cooking in local policy.
One of the immediate insights was that although there is awareness about the national clean cooking strategy and goals, there is lack of translation of those targets to the district level. In turn this leaves significant room for discussion, advocacy and cooperation in local policy and action.
Tangsen embarked on creating an extensive qualitative and quantitative methodology for collecting data on clean cooking, attitudes and needs in the local community. They looked at the potential for adopting clean cooking on a larger scale. In their field work, they collected data from citizens, business, leaders and politicians. They turned this data into an extensive report analyzing the context, state of affairs as well as attitudes, values, needs and expectations of all stakeholder groups.
On the basis of the report, they created a careful lobbying and advocacy strategy as well as a dissemination strategy to promote the findings, particularly among decision-makers.
The "Government as a system" tool from Policy Lab UK was used in order to generate ideas and recommendations from decision-makers based on the data presented to them. The value of that approach is to explore over 50 models of acting as a policy-maker and decision-maker in a given area. Several meetings with Committee members and chairmen were conducted to turn this into a reality.
Additional consideration was given to include women because they are a minority in the aforementioned bodies. A large focus was put on how to support them in what they need, to lead in those discussions and actions. All of this was done with the aim of formulating commitments on a District level during the District council and generating resolutions that can be passed during the upcoming meetings. These commitments are currently being defined.
Keeping in mind the lengthy nature of political processes, such activities require longer term sustainability and support in order to generate systematic change. As a professional network advocating for women empowerment and increased access to modern energy technologies and services in Tanzania, the team remains determined to continue using what they have learned and tested during the pilot project.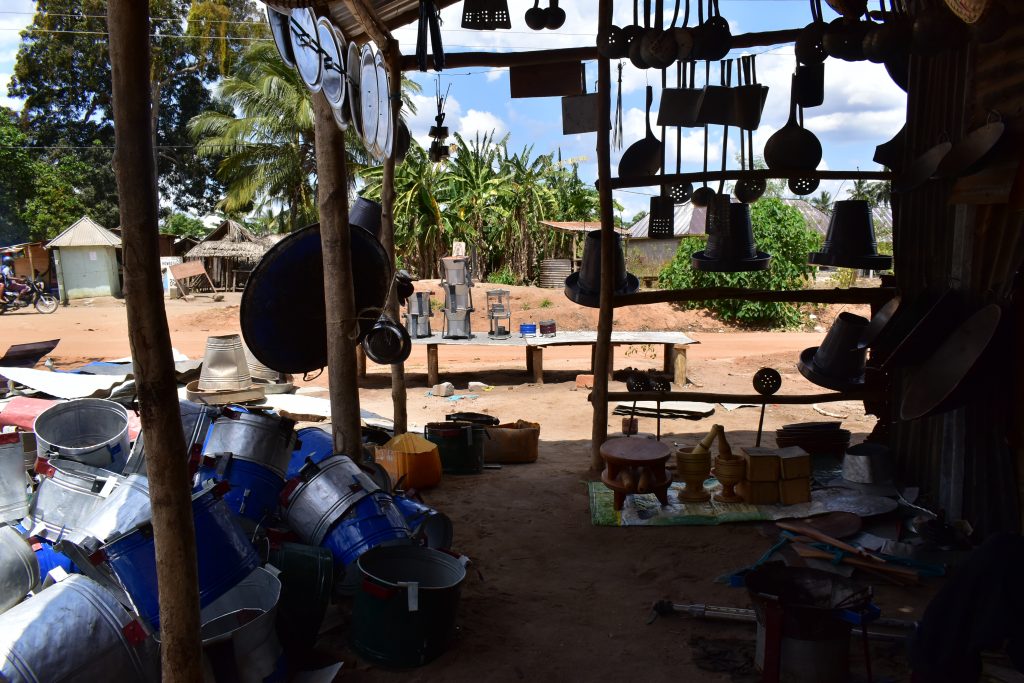 Briquettes made from coconut shell
The "Mkaa Nazi" ("Coconut briquettes") project wanted to shift certain businesses away from the charcoal they normally used, to a more sustainable fuel: coconut shells, a waste material that was discarded with no further use at markets.
With the help of the Dar Es Salaam Institute of Technology and Vocational Education and Training Authority (VETA), the project acquired specific machinery as well as an engineer to train their female engineers in how to use the machine.
The team worked with female coconut vendors to collect and deliver the raw material, used coconut shells which are discarded after customers drink the coconut water. They also worked with five women groups and local waste collectors to ensure they got a good quantity.
To prepare for production, "Mkaa Nazi" built a small production and storage unit. The machinery was installed and two women workers were trained on how to use and repair it. The next step was experimenting with the right balance of material to produce a briquette that would burn at the right rate.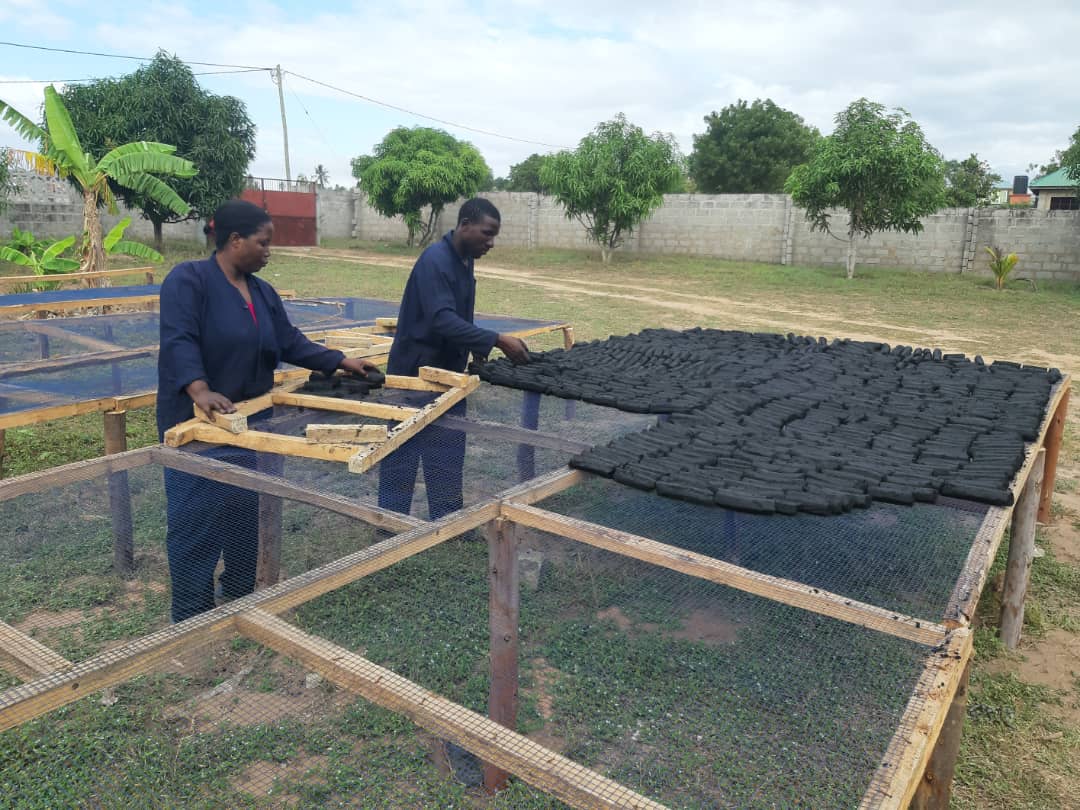 "Mkaa Nazi" worked on creating a variety of their product to cater for differ needs and to capture as wide a range of the market as possible. Through trial and error, they started producing two versions of the briquette to meet customer needs.
"Mkaa Nazi"'s main customers were food vendors in local markets. The project team worked closely with the market owner to be able to sell in bulk so the women food vendors could buy when they needed the product. After two months of production they already had 50 female food vendors using the briquettes from one specific market.
With some great marketing and visibility, Daniel, the project manager, started talks with the Environmental Ambassador from Morogoro region for wider distribution. Unfortunately, in December Daniel fell ill, and was unable to recover, passing away shortly after. Following his passing, the team has not been able to resume the project.
Photo details:
1. Presenting Nukta to the President of Tanzania, Samia Suluhu Hassan (Photo credit: Nuzulack Dausen)
2. The repairwomen ready to work (Photo credit: Emma Laswai)
3. TANGSEN team in one of the meetings with Councilors of Economy, Environment and Public Work Committee of Kisarawe District Council. (Photo credit: TANGSEN)
4. Improved charcoal stove and other cooking materials made from recycled metals. (Photo credit: TANGSEN)
5. Drying the coconut briquettes (Photo credit: Daniel Maginga)