On the first day of the 2015 Sustainable Energy for All Forum in New York City, ENERGIA and their partners convened a multi-stakeholder panel focused on Gender-Informed Business Models for Scaling Up Energy Access. The panel was moderated by Sheila Oparaocha, ENERGIA's International Coordinator and Programme Manager and featured:
Corinne Hart – Director, Gender & Humanitarian Programs, Global Alliance for Clean Cookstoves
Jessica Alderman – Communications and Public Relations Director, Envirofit
Najada Kumbuli – Senior Investment Officer, Calvert Foundation's Strategic Initiatives
Simon Collings – Director of Learning and Innovation, Global Village Energy Partnership (GVEP)
Josephine Ngumbe – Managing Director of Holden Briquettes Energy Solutions, an energy entrepreneur from Kenya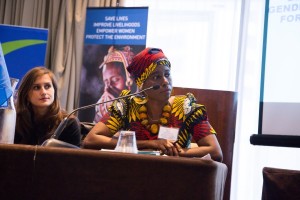 Ms. Oparaocha led a conversation that was energetic and wide reaching. It included information from the Global Alliance for Clean Cookstoves about research conducted on effective energy sales tactics, the allure of investing in new gender-informed energy markets from the Calvert Foundation, information about the design of sustainable energy technology from Envirofit as well as first-hand anecdotes from the daily business of sustainable energy from Ms. Ngumbe.
Ms. Ngumbe's story laid a great foundation on which the conversation was built. She lives near Nairobi, Kenya, where 75% of the people in the city don't have access to clean energy. "I saw potential for good and to make a profit," Josephine explained to the audience gathered. So, she started her briquette business (read more about Josephine's story here).  Josephine noted that although her business is now profitable, it wasn't easy to begin. She had to invest all of her savings into getting it running. She explained that startup capital remains a huge barrier for most women in her position. She had been employed as a journalist when she started her business and financed the cost herself. Most women aren't able to do so and obtaining loans is difficult.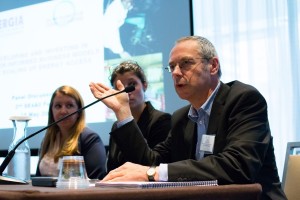 Simon Collings noted that GVEP found similar issues in their work. Women often don't have guidance on how to gain a loan and thus the percentage of loans given to them is lower than it should be. GVEP found that if you mentor women in the financial side of starting an enterprise, "they are just as capable of securing loans as men are." He added that GVEP had worked with Johns Hopkins University last year to create a manual that empowered women entrepreneurs with the basic business skills and training they'd need to start their enterprises (available here).
Ms. Kumbuli of the Calvert Foundation added that it was now known within the sustainable energy sector that investing in women is good business. However, the stakeholders still needed to make a better business case to outside investors on why investment programs in women-led businesses should be further developed – and how they are profitable, scalable and replicable.
"We need to encourage entrepreneurship amongst women as part of the solution," Collings added, adding that the alterations to programs to include more women aren't cost prohibitive. Other panelists added that in some cases, the end result is more effective if that initial cost of involving more women is included.
"The Alliance always had a gender specific strategy, and we are focused on this not because access to clean cooking solutions has an impact for women and girls around the world… but also because we feel gender informed business models are key to scaling adoption in the sector," noted Corrine Hart of the Global Alliance for Clean Cookstoves. She went on to note that her organization has partnered on studies that showed that women-led energy enterprises sometimes have a more effective outcome than those led by men. During a random trial in Kenya that was part of a research study by Johns Hopkins University it was found that women selling household clean energy products outsold their male counterparts by a factor of three. It was also noted that women who bought products from other women had higher product adoption rates.
The panelists surmised that this was because women in the developing world are the main managers of energy in their homes. Perhaps women are just better at explaining the uses and functions of a product in terms that other women can relate to.
Jessica Alderman of Envirofit, a clean cookstove manufacturer noted her company's success was directly related to listening to women. "If you aren't including women in the process you're not going to sell stoves, you're not going to have a business model." She noted that women, who are the end users of their products, must be involved in the design process in order for the products to sell well in the marketplace.
During their closing statments, Ms. Oparaocha asked everyone for a final thought. Ms. Ngumbe summed the conversation up nicely.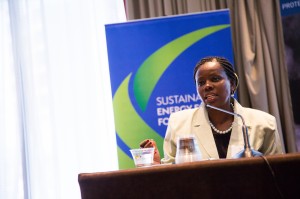 "Women should not just be energy users, but as partners as well. Financing should be directed at the bottom of the pyramid."
To read more about ENERGIA's participation in SE4ALL:
Read our blog
Follow us on Twitter
Like us on Facebook