Blog Series contributed by Energy 4 Impact – #1 of 3
Energy access and development practitioners seem to agree that ending energy poverty for the most deprived populations and achieving sustainable development is impossible without the involvement of women. Women are not only the users of household energy; if given the opportunity, they can play a critical role in scaling up energy access. We need more initiatives focused on empowering women and enhancing their involvement and leadership in the energy sector.
Energy 4 Impact, a non-profit organisation working with local businesses to extend energy access in Africa, has been working to build the capacity of female entrepreneurs in Senegal for the past three years.  Access to electricity is as low as 4% in some rural areas of Senegal, where poverty and unemployment rates are high, and 89% of households are heavily reliant on firewood for cooking. Women, in these rural communities, are traditionally engaged in agricultural activities. Energy access can offer new economic opportunities for them and their communities through the sale of energy products and services and through the productive use of energy.
However, there are several factors that hinder the success of women-owned and managed businesses in these challenging areas. Earning income through selling energy products is hard work. Local people are unfamiliar with the products and have little money. The women sellers also lack commercial skills and have domestic duties that confine them to their homes.
Addressing these barriers requires integrated solutions that engage a number of players in the energy market "ecosystem".  Through  ENERGIA's Women's Economic Empowerment programme – funded by the governments of Norway, Finland and Sweden – Energy 4 impact has developed and trialed a number of such novel approaches, which are described below.
An eco-system approach to overcoming barriers
Our teams have been supporting women-owned micro-enterprises selling solar lamps, solar home systems and improved cookstoves, in the rural region of Tambacounda. They have also worked to strengthen non-energy businesses through access to solar power and solar powered fridges.
Like most micro businesses operating in informal economies, women entrepreneurs in this poverty-stricken region suffer from a lack of technical and business skills, shortage of reliable and affordable supplies, lack of access to distribution channels and to credit. They are also faced with gender-related barriers.
"We realised that to achieve our objective of scaling up access through women's entrepreneurship, we needed to look at the whole eco-system and address the challenges that prevent women from establishing their position in a market network of consumers, distributors, suppliers and finance providers,"  explained Jonathan Clowes, Energy 4 Impact Africa Programme Manager.
Energy 4 Impact's team of mentors offered tailored business, empowerment and leadership training to women entrepreneurs to build their confidence and know-how. Local manufacturers, suppliers, retailers and customers were also sensitised about the benefits of women's participation in the energy market and the opportunities that this offer to each group.
Extensive campaigns were also conducted to increase awareness of the benefits of the products among the local populations through village-level events, roadshows and media and by involving local authorities, decision makers and celebrities.
To build new markets, Energy 4 Impact set up partnerships with a number of financial institutions, government agencies, manufacturers and distributors of energy products to trial the sustainability of a number of business models.  The following three examples highlight initiatives in the diversification and scaling up of productive use activities, in facilitating distribution for pay-as-you-go (PAYG) solar and in developing novel credit mechanisms.
Diversification and scaling-up productivity through solar refrigeration
To help women-led agricultural businesses increase or diversify their income through solar refrigeration, Energy 4 Impact entered into partnership with two government agencies providing technical training, tailored to the women's needs. We also engaged with the private sector to provide the necessary equipment.
Bonenergie, a supplier of solar refrigeration equipment, assessed their energy needs and suggested suitable products. Energy 4 Impact's business mentors helped the entrepreneurs prepare business plans to present to financial institutions, which were selected for their social and/or environmental impact objectives.  Energy 4 Impact partnered with them to design and manage credit line mechanisms for leasing solar-powered technologies that could be repaid in instalments. As a result women were able to purchase fridges which they used for making juice from local fruits as well as selling cow's milk, ice cream, ice and cold water.
According to Jonathan Clowes, Energy 4 Impact Africa Programme Manager: "While access to equipment is important, it alone does not automatically result in higher levels of economic activity and profitability.  We need to work with businesses to build their capacity and ability to take full advantage of the new electric equipment. This is where our mentors can add real value by helping the entrepreneurs identify growth and diversification opportunities."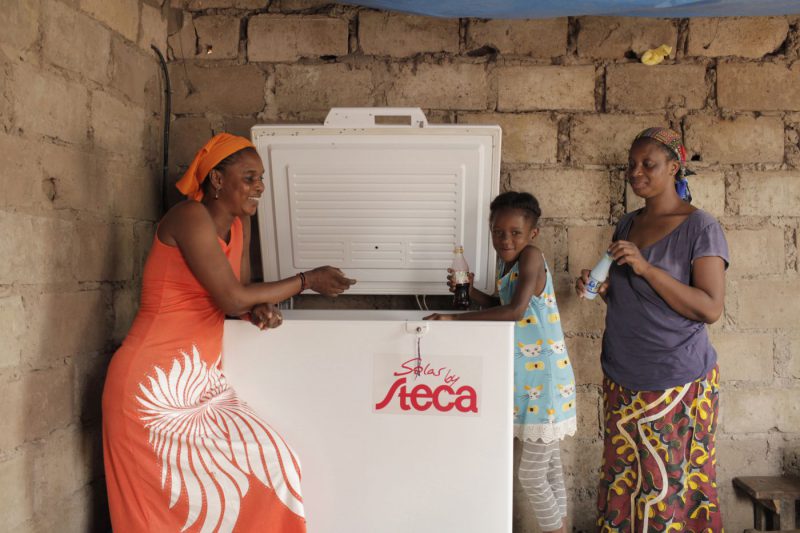 Innovative credit facilities to boost products' affordability
The high level of poverty in the region means that most customers are unable to pay for products upfront. It also means that upfront costs of supplies are still too high for many of the women entrepreneurs. In addition, suppliers are nervous about providing goods on credit. In response to this, Energy 4 Impact designed a supplier's credit guarantee that allows women entrepreneurs to purchase pico-solar products and improved cookstoves on credit and to extend that credit to customers.
The women place bulk orders with the supplier who requires 25% of the value in cash and the remaining 75% within 60 days. To improve the creditworthiness of these informal entrepreneurs, Energy 4 Impact acts as the guarantor for the 75% with the supplier. The women can then sell on credit to their customers, who are required to pay 25% cash and the rest within 45 days. To minimise the risk of buyers defaulting they are advised to only sell on credit to people they know or who are known to the community – leveraging the benefit of women's local relationships.
"So far we have seen an 85% rate of repayment on time with any delays being attributed to defective products. This high loan repayment rate underlined the success of the model and we have been able to negotiate new credit agreements with suppliers as well as look for additional suppliers, paving the way for new businesses," said Clowes. However, despite a high rate of repayment, sales have been low for many women due to low customers' purchasing power. Whilst the awareness activities are shown to have influenced people's willingness to purchase the energy products, price still remained a significant barrier to ownership.
Facilitating last mile distribution of pay-as-you-go solar home systems
As an alternative to lanterns, Energy 4 Impact introduced a new type of business offering; low cost pay-as-you-go (PAYG) solar home systems. Energy 4 Impact then trained a group of women to become distribution agents for these products.
Abdoul Karim Dosso, Project Manager at Energy 4 Impact explained: "We designed a new PAYG solar home system product with Baobab+, a social enterprise that makes solar products accessible through PAYG. This gives clients one month's access to electricity upon purchase and from there on the possibility to make payments on a daily, weekly or monthly basis through mobile phone payment suppliers. However, some of the women lacked the technical expertise required to install or recharge the systems. Also, the communities did not see it as proper for women to be on roof tops. We therefore suggested hiring male relays (their husband, a nephew or a neighbour), who could help with the installation and recharges." The relays hired by the women are paid a percentage of the profit delivering an increase in employment opportunities for men and allowing women to overcome technical and gender specific barriers.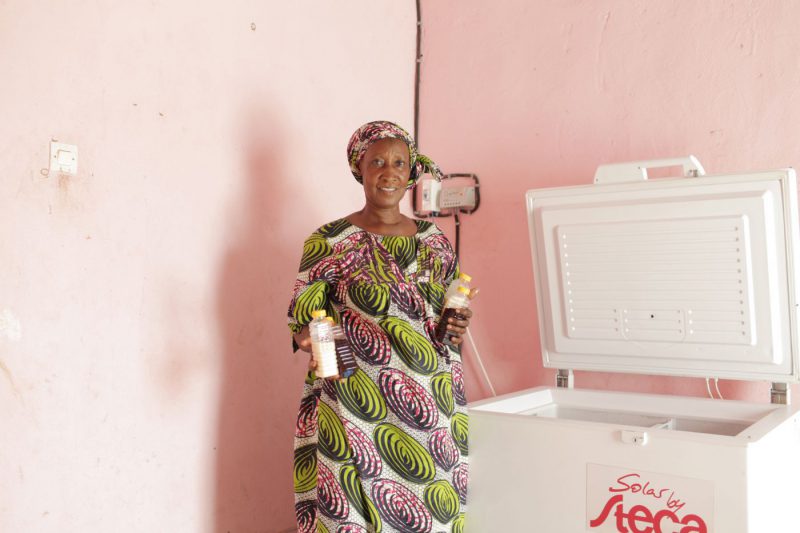 CASE STUDY
As the head of the CESIRI Women's group, Oumy Ngom is the focal point for suppliers of solar lanterns and PAYG solar home systems in Tambacounda. The financial mechanism in place allows Oumy to purchase lamps with a 25% deposit, and repay the outstanding 75% in three instalments, one every two weeks, with no interest. "Without this system, I would not be able to purchase the lamps at full price," says Oumy. "There is a demand for solar technologies in the region, so I know I can find buyers." Such support has provided a lifeline to Oumy and her women's group, which have, in the last one year, sold 152 solar lamps. The support and PAYG model have also enabled Oumy to diversify her product range with Solar Home Systems (SHS) Kit.
Lessons learned
Despite the challenging environment in which women entrepreneurs operate in Tambacounda, the value chain approach described above is recording a degree of success.  Women involved in traditional agricultural practices have been able to diversify their business and set up new sustainable economic activities. This in turn generates extra income and employment. The mentored entrepreneurs also reported increased confidence, business acumen and decision making autonomy within their family and community, followed by improved living standards as a result of their economic activities.
_______________________
ENERGIA supports Energy 4 Impact through its Women's Economic Empowerment programme and Gender & Advocacy Programme.