This blog was originally posted by ENERGIA partner Solar Sister.
Solar Sister was founded on the premise that investing in women is not only the right thing to do, it's the smart thing to do. The recent assessment by International Center for Research on Women on Solar Sister's unique women-entrepreneur model highlights the ways in which gender equality, economic empowerment + clean energy each increase the impact of the other. The full assessment is available at https://www.solarsister.org/assessment.
A bright idea: Women economic empowerment + clean energy
Solar Sister is a network of women in Uganda, Nigeria, and Tanzania who are reaching the most energy-poor by selling selling solar lamps, mobile phone chargers, and fuel-efficient stoves. These Solar Sister entrepreneurs turn to their networks of family friends, and neighbors into effective distribution channels to reach rural and hard-to-reach customers who benefit most from the affordable technology. At Solar Sister, we support our staff and women entrepreneurs by sharing best practices, training on business skills, and making connections with manufacturers and local partners.
The idea for Solar Sister was sparked after Katherine Lucey, a former banker with 20 years experience as an investment banker specializing in energy finance, met Rebecca, a farmer in rural Uganda. Rebecca had used a solar light in the chicken coop to increase production of eggs. She sold those eggs and reinvested in seeds, a pig, a cow… eventually even building a school. WhenKatherine met Rebecca, she was inspired by the idea that women had the insight to know how to best use clean energy technology and the community networks to see that it would reach their whole community.
Lessons learned
Five years into running the Solar Sister program, we've seen that idea come to fruition in many different stories– some of which we've shared, below. ICRW's assessment takes these individual stories and shows how they form a pattern of empowerment for women entrepreneurs and customers. The assessment breaks down the benefits into different areas: Solar Sister's unique model of recruiting, training, and supporting female clean energy entrepreneurs leads to a ripple of benefits for the individual, her family, and her community. With these insights, Solar Sister will be better able to to target our outreach, training, and support of entrepreneurs to increase the impact of energy access and economic opportunity for women. We hope other organizations will do the same – using ICRW's insights as a guide to why and how to include women throughout the clean-energy access process.
A sneak peak
Here are a few of the areas of impact that ICRW's study identified in the women's entrepreneurship+clean energy model. We've illustrated them with some of our favorite Solar Sister stories (Thanks to Lindsey Allen and Serena Chan, of the Miller Center for Social Entrepreneurship for stories and images)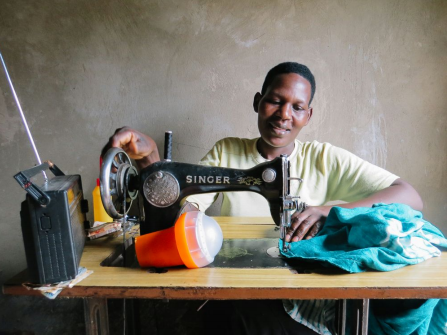 Income + Autonomy, Business Growth: Wamayo flashes a bashful smile of pride as she places her Marathoner Beacon solar lantern in front of her Singer sewing machine — demonstrating how she uses it while mending clothes during the late hours of the night. The solar lantern, purchased from a nearby Solar Sister entrepreneur in Sango Bay, Uganda, has became an integral part of her tailoring business. Wamayo put away savings for one year to purchase the Marathoner. "I am thankful for my Marathoner. I was spending 700 shillings per day for kerosene." Wamayo's savings from no longer using kerosene, combined with her increased profit from extended work hours, provided her with enough money to construct a new house for her family.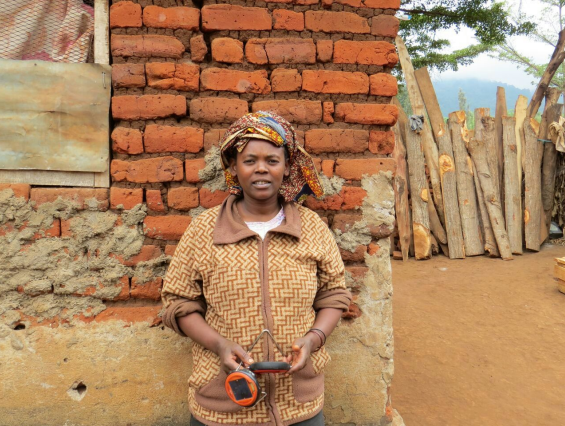 Education and Health: Before she purchased S2 solar lanterns, Natalia's children were having issues in school and health. "They couldn't study confidently. When they used kerosene, they started coughing and choking from the smoke." Natalia decided to buy battery powered flashlights as an alternative, but she became frustrated when the flashlights broke with no warranty to return them. When Solar Sister entrepreneur Rose introduced her solar lanterns to Natalia, she was intrigued by the idea of a reliable, safe solar lantern with a two year warranty and a receipt. Natalia also felt comfortable purchasing the light from Rose, a friend and neighbor for many years.
Natalia bought one light to test it out, wanting to make sure the technology lived up to Rosa's claim. She saved her earnings from selling her vegetable crop and working as a tailor to buy two more lanterns, one at a time. Her children's grades improved two times their previous scores. Natalia feels happy her children can safely hold their source of light and move around with it when they study.
Women's Mobility, Status, Sisterhood: The basket weavers of Mwada village were some of the first Solar Sister entrepreneurs in Tanzania. They discovered the Solar Sister opportunity through the African Wildlife Foundation, one of Solar Sister's partner organizations in Tanzania. The women were intrigued by the idea of simultaneously attaining income security, while also helping their village. Now, not only are the women gifted artisans, but they are also respected business women.
The cost savings and newfound security in the village, as a result of the spread of solar energy, has garnered praise for the Solar Sisters. When walking through the village at night, solar lanterns can be seen hanging from most homes. The women are perceived as life savers in their community. "Our names have changed. People call us Mama Solar," said Hilaria. Last year, Hilaria won a Solar Sister bicycle for being one of the top selling entrepreneurs in Tanzania.
Mwada is currently suffering from a water scarcity crisis. Through spreading access to light, the Mwada entrepreneurs helped their community gain access to water as well. "Fetching water is very expensive, but now since I'm no longer spending money on kerosene, I can afford to fetch water," explained customer Juliana.
Solar Sister entrepreneurship has fostered love and trust in Mwada. "The community prays for us because we have brought a different lifestyle to their homes," said Basilisa.
Juliana, who has been a long time customer and fellow basket weaver, smiles proudly at the Solar Sister entrepreneurs. She explains that villagers feel comfortable purchasing the technology because they can feel the care behind the work. "These ladies are smart. They love each other. The community sees them as strong business women," said Juliana.