Last-Mile Products Delivery
With a rich history of supporting women with access to finance and clean energy, as well as being a female-led organisation, Kenya Women Microfinance Bank (KWFT) wanted to develop a last mile concept through GEIF.
The last mile concept is ultimately ensuring that customers can have products delivered to their door. Quite often people in remote rural areas can be excluded from certain offers because for them to get to a shop or bank branch in a larger town or city can be expensive or time consuming. KWFT therefore looked to add the last-mile concept service to their business, so they could start selling clean energy cooking stoves to these areas using a network of delivery personnel.
They started through market research and by asking potential buyers if they would use the service. As they moved to different villages, the response was extremely positive. People were interested and would use it. KWFT were able to demonstrate the value of paying a little premium to have goods delivered to their door. They were able to demonstrate this by explaining the financial and time savings made compared to if that individual had to go alone. They had previously shared stories of people arriving to collect goods to find the goods were not even ready.
This would ensure those ordering the goods didn't need to find the time and method to get to larger towns to buy them. It also meant that customers could also be informed about other products and have support installing them.
On the other hand, KWFT found it extremely difficult to engage female motorbike riders. Motorbike riders are often the best way to reach certain remote and rural areas due to the ability to drive on the dirt tracks in many conditions. Through discussions in the villages they hoped to work, they saw a large difference regionally. For example, they noted that eastern Kenyan women were more likely to ride motorbikes compared to western Kenyan women. KWFT put this down to cultural differences and stronger traditional views. They also discovered women were less likely to have a valid driving license. In order to counterbalance this they looked at offering support to those without a license, including financial and personal support.
Due to this, they changed their approach by turning to women-led enterprises that employ riders, thus supporting female entrepreneurship.
This was made easier by the fact the Bank already worked with female entrepreneurs, and had their trust already. Furthermore, these females had local knowhow in their villages to then be able to recruit and assist in growing the final service.
By the end of their project, KWFT had proven their assumptions regarding interest in the last mile solutions and had to reconsider the initial, gender-related assumptions. Although at the time when the project closed KWFT was not able to add more products or to enter into new partnerships, last-mile customers did confirm their interest in the concept and would order if they were looking to purchase a product. As to female riders, while KWFT was not able to employ a mostly female driver force, they supported women entrepreneurship in last mile delivery.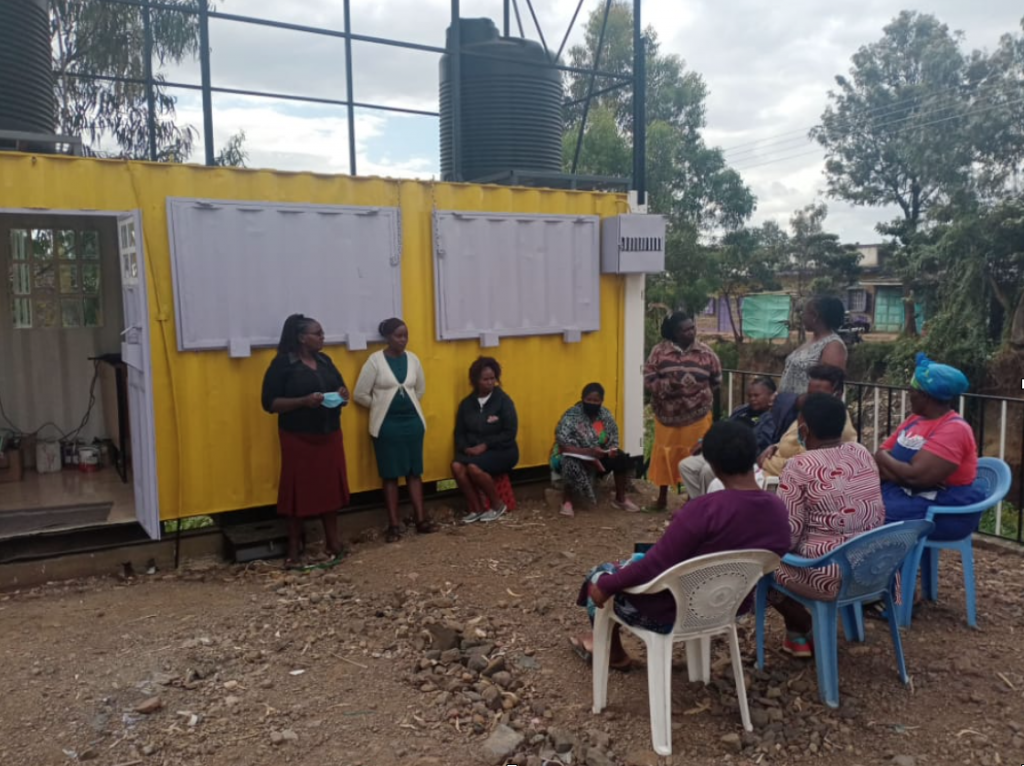 Piloting Modern Women-Run Cooking Hubs
Already boasting a range of innovative projects, SCODE wanted to create a multifunctional community cooking hub. Combining infrastructure and education, the Modern Electrical Cooking Hub (MECH) would be run by women and youth from Nakuru and surrounding villages.
A MECH is a custom-made hub, in this case a shipping container, which boasts solar and clean cooking stoves. The cooking hub would educate people about healthy eating and clean cooking, and provide catering and delivery to people in the vicinity of the MECH. The combination of selling products and services would then be used to fund the training and education.
SCODE encountered issues right at the beginning when it came to sourcing the right container. This was a completely new area for them and they were out of their comfort zone. Once they had found something suitable and as close to budget as possible, they met further barriers with refitting and equipping the MECH. These therefore required additional resources in time and employees for SCODE.
Being a community based organisation, they found it easy to get local buy-in from both public institutions and individuals. There were a number of women who signed up early on. These women were given demos on how the various products work, so they could showcase them to others and use them for cooking. When speaking to households they were also able to get them interested in using the services.
After seven months they were encouraged to see it finally completed and in location. Unfortunately by the time the project ended, the MECH was still to be fully launched. As of June 2022 they are finalising the seating area outside. They will then look to follow their business plan to make it self-sustainable. Only then can they fully explore the hypothesis of innovation and its impact on clean cooking and community engagement.
Ultimately the MECH was built for and run by the community, and has a core group of women at the centre of it. Its goal will be to serve as a focal point for the community as a promoter of clean energy.
Pico-Solar Systems Produced by Women
As first and foremost an electrical engineer, Wilson came into the project wanting to revolutionise the Kenyan solar power market. He saw the opportunity to start producing locally made clean energy solutions, and understood that doing so could lead to cost savings for all. At the same time, he knew that women were underrepresented in the sector, and aimed to work solely with them to support their voice and presence.
His experience with other products served him well, having previously worked on televisions, digital timers, and solar powered cook stove regulators. Thanks to this, he quickly made inroads at sourcing all the necessary raw materials and designing the new product. Along the way he also looked at where existing products failed – in their affordability, modularity and design.
With the materials on their way, he partnered with other organisations such as Jaramogi Oginga Odinga University of Science and Technology and Kenya Power and Lighting Company to reach out to women with a diploma in electrical and electronics engineering, especially those who were about to graduate or had just graduated.
He quickly identified two women to be trained, but quickly started understanding the challenges women face. His initial thought that he would be able to expand recruitment using readily available databases was wrong, as women in the sector were not visible. Once he had a team of three women who were putting their theoretical knowledge into practise, and in turn creating the first Kenyan made, women-led modular solar system. It was thanks to these women that the word was spread, as they talked to their peers, friends and colleagues. This informal network completely outdid any official network when it came to support, which is why later on in the project Wilson would encourage the women to create an online community group using social media.
Wilson led a project that continued and continues to grow and innovate. From what started out as producing a 'straightforward' locally made solar system, it is now a modular device that takes into consideration other needs. The ability to upgrade piece by piece instead of buying a whole new system has ensured it is value for money and financially accessible. Through developing their own battery, this is now able to be detached and used by fishermen or market sellers. As Wilson and the team continue to produce the system, they are constantly refreshing and ideating.
Furthermore, the team he got on board have become trainers and an inspiration to future generations. They were the ones that initially shared the project and supported Wilson in finding other interested women. They then set up a community group for women only, where they can share news, information and project updates related to their sector. Finally, they are reaching out to the local schools and university to invite them to see the work.
The last part of the initial project saw the product sent for final testing before sales. Meanwhile the team was hungry to continue. He successfully applied for scale-up funding. The project's work in this new phase will be featured in a dedicated article in the coming months.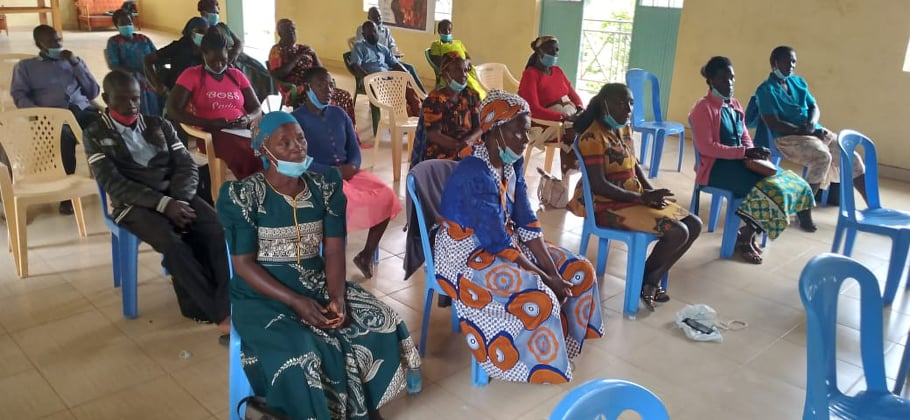 Combustible Trash Barter Trade
Nyalore Impact live and breathe their ethos to support women from rural and disadvantaged communities on a daily basis. As part of their GEIF project, they wanted to innovate in how fuel is produced and who is involved in producing it. Their hypothesis was to motivate women to collect biowaste (farm waste) through monetisation, and in turn produce briquettes from the waste. These briquettes would then be given as part of compensation, and sold on the larger market.
Through exploring themes during focus groups and meetings, they disproved their original hypothesis. This was because the quantity and quality of farm waste was extremely unpredictable and seasonal. Nyalore decided to pivot and used their data to form new conclusions and hypotheses.
This happened alongside an expansion to the groups of women they were working with. Originally the majority of the groups were those in extremely remote villages where access was difficult, leading to isolation. They then partnered with AIDS Foundation Kenya and were introduced to communities of women and children living with AIDS. These groups represented the most vulnerable, being stigmatised and isolated because of their status.
Working closely with these groups, Nyalore learnt that the relationship towards trees and forest was as a source of energy for heating and cooking. It was a relationship that rested upon a deeply rooted culture of dependency. So Nyalore started to explore how to change the relationship from exploitative to nurturing.
Based on the experiences from this pilot, Nyalore decided to create a new innovation hypothesis and project called "Tree Bosses". It would generate income for women to take care of the trees and demonstrate the true value of nurturing-based work, turning into a strong female-run business.
Nyalore are now looking at ways to maintain the new idea, and still target the initial goal of stopping firewood as a fuel.
Scale-up
Towards the end of the first phase of these pilots, a call for scale-up proposals was launched. Wilson was successfully granted funds for a second, scale-up phase. His goals are to expand the team to employ more women and to get the first pico product on the local market. Further to this, he is also welcoming girls and women from educational institutions to visit and learn about electrical engineering from the team.
Photo details:
1. Assembling the solar panel unit (Photo credit: Wilson Okwako Ombisi)
2. Scode meeting with participants outside the MECH (Photo Credit: Anastacia Kamau)
3. Nyalore Informational Session (Photo credit: Dorothy Otieno)