One morning, I went to my poultry farm to see the chickens and I was shocked seeing almost 700 chickens lying dead. I was speechless. I don't know how I came back home. My daughter tried to talk to me but I was unconscious and could not respond to her. When I regained consciousness, I was in the hospital of Kathmandu. The doctor told that I had a panic attack because of the stress.
Kamala Bhattarai is a woman entrepreneur living in a rural municipality of the Chitwan district, located in the Southwestern part of Nepal. She started a poultry farm in 2009 to improve her family's economic conditions. This happened after her husband's decision to seek work abroad to financially support the family. She started her poultry farming business with 300 chickens, using the money sent by her husband. In 2011, she added 500 chickens and in 2013 she expanded her business and built a poultry shed where she could raise 1,000 chickens. Upon her husband's return in 2018, she built two new sheds, able to host 3,000 chickens and 2,000 chickens respectively. Along with poultry farming, she currently also does fish farming and vegetable farming. Kamala is also a shareholder of a cooperative, the Marshyangdi Bahuudyasiya Sahakari Sastha Limited, where entrepreneurs can deposit part of their income and save money or take loans for their businesses.
COVID-19 impact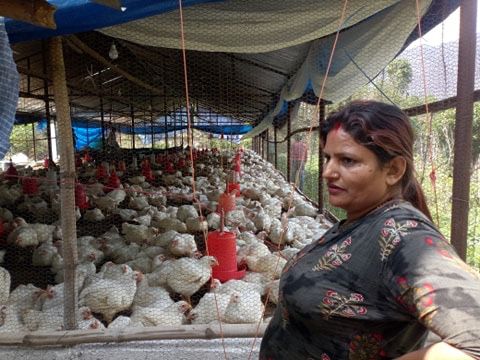 Kamala bought 2,000 chicks paying NPR 160, 000 (USD 1,300) before the country lock-down on March 24, 2020 due to the corona virus. The chickens are usually sold when they are 40 days old. However, due to the lockdown, she was not able to sell her chickens on time. After 55 days chicken started dying. When looking at her dead chickens, Kamala had a panic attack. The vet confirmed that the reason for their death was their overweight. Unfortunately, she has buried almost 1,300 chickens till now. With most of the shops, restaurants and informal eateries closed, there is much less demand for chicken than before. As a result, the dealer Kamala usually works with, bought only 400 chickens from her and now she still has 300 chickens, which are already 75 days old and will soon die as well.
Kamala is bearing a loss of NPR 1 million (around USD 8,300) from the chicken farm. She said it is too costly and difficult for her to keep feeding the chickens, only to see them die because of being overweight. As there is no market for her chickens, Kamala is unable to pay the interest of her debt of NPR 2 million (around USD 16,600), taken from Marshyangdi Bahuudyasiya Sahakari Sastha Limited (Marshyangdi Multipurpose Cooperative Limited) to expand her business. Before lock-down, she used to earn NPR 957,000 (around USD 8,000) selling 2,000 chickens. After deducting the rate of poultry feed and medicines, her profit was about NPR 200,000 (USD 1,600), out of which she paid back the loan she took. "I am sure that things will change radically after this pandemic and we will not get back to normal life easily. However, it is my hope that measures will be lifted soon so that I can restart my business. I am wondering how to pay my debt and how to recover the huge economic loss that we had".
This impact story was created in collaboration with our partner, CRT-Nepal.