By Melissa Ruggles*
2,371 women entrepreneurs recruited, trained and mentored, leading to 772,925 people with access to cleaner energy. These figures show how ENERGIA and Solar Sister have been transforming clean energy access for people in Uganda, Nigeria and Tanzania since becoming partners in September 2014.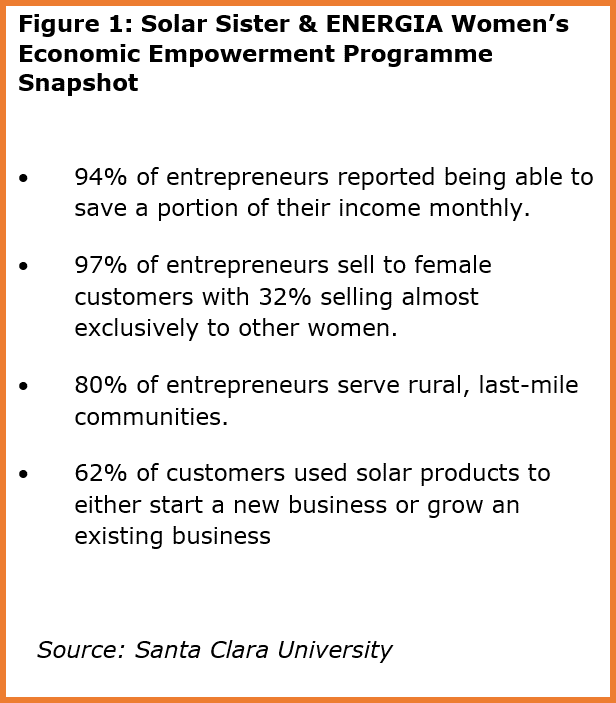 For four years now, Solar Sister has been a key partner in ENERGIA's Women's Economic Empowerment programme, supporting women-led businesses to deliver and scale energy services, and raising awareness and advocating about the inclusion of women in the energy value chain. The snapshot in Figure 1 provides a clear indication of what has been accomplished within just four years.
Last-mile distribution of solar and clean cooking technologies
Solar Sister is a network of African women entrepreneurs bringing life-changing, affordable clean energy solutions to their communities. Solar Sister's award-winning model addresses the severe gap in the distribution of quality modern energy solutions for the most underserved communities where women make up the majority of the market. In order to change this, Solar Sister, with support from ENERGIA, has built a last-mile distribution chain for solar and clean cooking technologies through an effective women's entrepreneurship model. ENERGIA and Solar Sister believe and have shown that when women act as clean energy entrepreneurs, they help reach more rural women and their communities. They also increase awareness of clean energy benefits and choices available while being economically empowered themselves.
Women are the ones who manage energy and light in the household. It makes sense that we are not just the problem, we are an essential part of the solution.
                                                                    – Olasimbo Sojinrin, Nigeria Country Manager, Solar Sister
What a little light can do
A study on Solar Sister's impact by Santa Clara University's Miller Center for Social Entrepreneurship 'Turning on The Lights: Transcending Energy Poverty Through the Power of Women Entrepreneurs' notes that the effects of solar lanterns sold by Solar Sister entrepreneurs on end users are far more comprehensive and far-reaching than just providing light (see figure 2 below). For instance, with solar lanterns, students have a reliable, bright light to use for their studies and show significant improvement in their education. Families are relieved of the damaging health effects from kerosene and no longer risk burns and home fires from kerosene lamps. Households experience financial benefits by ceasing the use of costly kerosene, growing existing businesses, and starting new businesses. Further, individuals have more time in their day due to increased lighting hours and elimination of travel time to obtain kerosene. Some solar lanterns do more than provide light: They can also charge cell phones. And all these benefits combine to create intrinsic changes in individuals' sense of agency and power.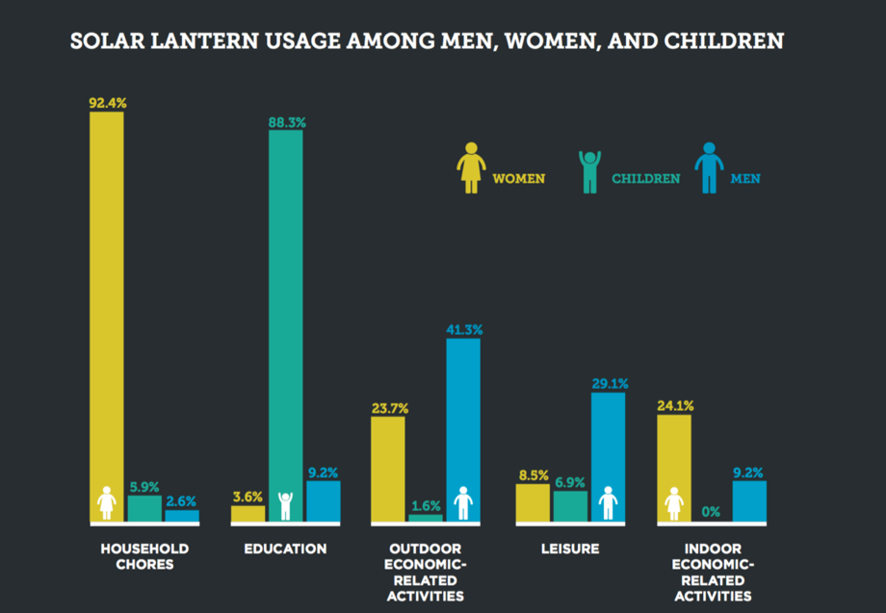 Lighting the Future – 2018 and beyond
Together, ENERGIA and Solar Sister are making plans to extend the partnership and, with it, the support they provide to women entrepreneurs in expanding clean energy access to even more communities. With ENERGIA's support until the end of this year, Solar Sister plans—among other things—to provide training and support to 1,400 women entrepreneurs in order to empower them with the confidence and skills they need to build and grow their businesses, as well as provide incentives to at least 100 women entrepreneurs in order to motivate them to further scale their businesses, increase sales and spread more clean energy.
Women are a critical part of clean energy solutions. 
                                                          – Solar Sister
* Based on documents written by Solar Sister