Patricia Shayo waves her arm over the 200 orange trees she planted on her new plot of land, purchased with her earnings from Solar Sister. Patricia's glossy black hair is drawn back in fashionable flat twists. Kanga cloth of orange, turquoise, white, and deep blue drapes over her shoulder, bringing out the warm tones in her skin. Her eyes light up when she smiles, remembering the day she purchased the trees.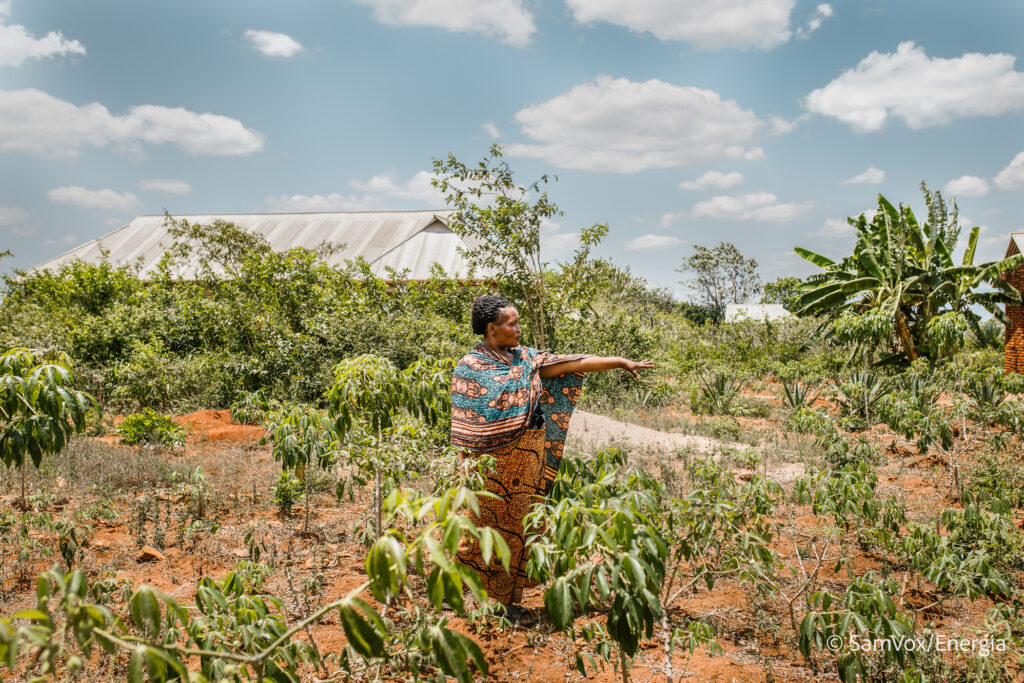 Patricia lives in the small, rural village of Michungwani, some 60 miles from Tanzania's northern coast, with her husband and four children. There is no electricity in the town, and most people light their homes with kerosene and use firewood for cooking their food. Breathing in the toxic smoke from the kerosene lamps and open fires causes severe health issues, especially for the women who spend most of their day cooking and for children who use the lamps to study. However, few people were aware of the dangerous health effects of cooking over open fires before Patricia began educating them. It is Patricia's goal to bring awareness about these dangers to her community and clean energy and light to her village.
 I want to see my community change from using kerosene and other harmful energy sources. My goal is to reach more people in my community and educate them on the importance of solar light. In doing so, I will grow my capital and profit too.
A few people in the village used solar lanterns before Patricia began selling them, but the quality was not very good and broke quickly. In 2017, Patricia joined Solar Sister and started selling quality solar lanterns and clean cookstoves with a 2-year warranty. Her customers were pleased that the solar lanterns she offered were of good quality and were thrilled with the time-saving benefits of using the clean cookstoves and the health and economic benefits they received from these and the solar lanterns.
Throughout her Solar Sister journey, Patricia Shayo has continued to gain more confidence in herself. Patricia manages her household, cares for her four children, and farms a plot of land to help provide food for her family.
"I have learned a lot of things from Solar Sister. As women, we can take care of our family without depending on others. From a small amount of capital, women can now start a business. I am now a strong and courageous mother, and I see opportunities that I did not see before"
Patricia was enjoying significant business growth as a Solar Sister Entrepreneur when the pandemic hit in early 2020. Even a successful businesswoman, like Patricia, felt the negative social and economic effects of COVID-19. Her biggest challenge in the last year has been to sell her products. Community members were afraid to meet with anyone for fear of getting sick, and those who would have been potential customers were more economically strapped. Due to COVID-19, Patricia could not travel, and she was afraid of losing her contacts. Patricia's husband, who also works in the solar field, encouraged her and helped her brainstorm ideas and markets. Patricia also used the slower time during COVID-19 to attend the virtual trainings that Solar Sister offered, which further gave her the confidence and strength to carry on.
Despite these setbacks, Patricia is optimistic and has big plans. Confident in her abilities, nurtured since she joined Solar Sister, she remains grateful for the business and marketing skills she has acquired.
I was able to build confidence during this time, how to carefully use money and make savings. I also learned how to stay safe and keep my family safe by using sanitizer, masks and regularly washing our hands. Our family is keener on hygiene than before.
Patricia loves having her own business for the freedom it allows her, the sense of ownership it provides, and the high level of decision-making she enjoys as a result, both at the family level and in her community as a Solar Sister Entrepreneur.
Because of her savings from Solar Sister, Patricia has been able to continue to support her children with school fees, even in the midst of the pandemic. One of her children attends a boarding school, and she was able to finish work on her new house, which had been unfinished for a while. She is no longer worried when her children get sick because of her savings.
"My husband is more relieved because of the income I make from my solar business, and we help each other."
One of the most exciting things for Patricia is that she has become a teacher in her community. Patricia never felt like a leader in their community before and recently became a secretary to a small saving women group.
"I am teaching them about the good use of solar energy and the importance of not using kerosene and candles. I talk to other women about the opportunities offered by Solar Sister. They can get income and improve their livelihood".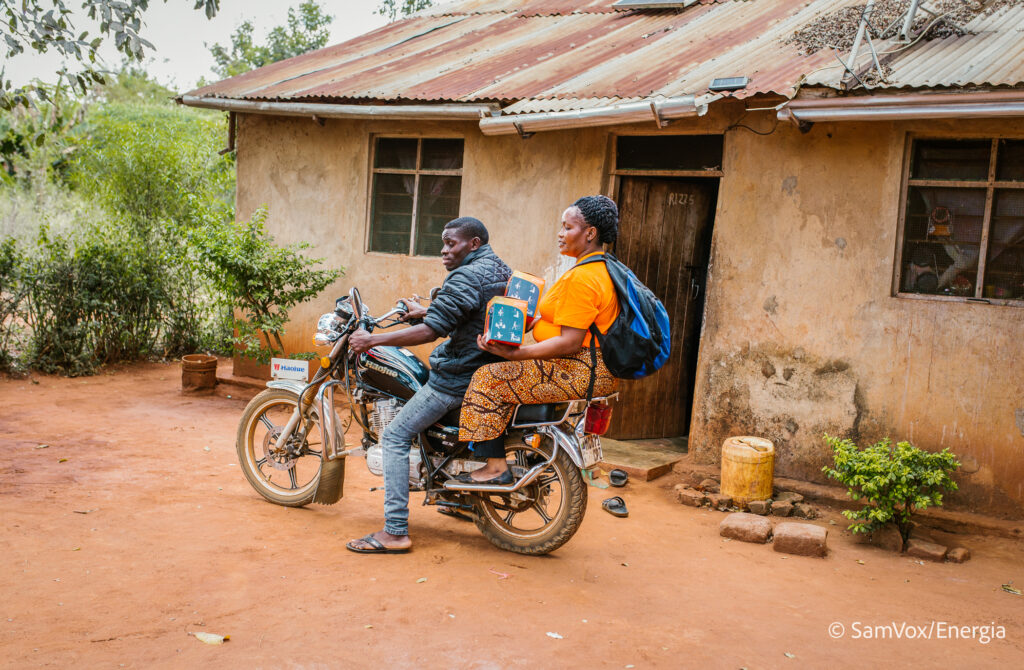 Patricia is determined to continue to grow her business and the family farm. She has made strides in her growth in the last six months. A few months ago, Patricia was only able to purchase two boxes of A2 solar lights; now, she can buy 4 boxes (128 pcs). She plans to grow her capital enough to buy ten boxes (320 pieces) of A2 lights.
Patricia participates in the Business Booster Program, funded by ENERGIA, which provides tailored coaching and other support to top performing entrepreneurs who are committed to doubling their businesses within a year. Through this program, Patricia is able to access up to $100 in product credit each month, which supports entrepreneurs, like her, in selling higher-priced products. This program was also helpful during the pandemic, when Patricia's business capital was depleted.
Patricia has big dreams! She is hopeful about the potential growth in her business. Her customers are asking for solar products like home systems, solar refrigerators, and TVs. Her biggest dream is to open a solar equipment store. Before that can happen, Patricia needs to build up her capital to invest in those products.
"I am still struggling to grow my capital, and that is my biggest challenge. I am working so hard and saving money, but it takes a long time to reach the goal. I will not give up, and I know I will reach my goal."
Back in her orange field, Patricia reflects on how far she has come since joining Solar Sister. Along with the support of her husband and children, she feels good about herself. Owning her own business changed how Patricia felt about herself and enriched her family life. She said she changed the way she dresses and now can afford better products. "I feel beautiful."
When I see the achievement I have made in my life and my family, I become so happy, and I am impressed by the fact that I am able to bring light to communities and inspire other women to be entrepreneurs. Now the community respects me so much.
---
This story has been developed by our partner Solar Sister as part of our Women's Economic Empowerment Program. It is authored by Joanna B. Pinneo.