After trying her hand at many businesses and jobs in order to support her family, Everlyne Murenjekha finally made her niche as an energy entrepreneur in Kakamega County, in Kenya. She is now a successful clean energy entrepreneur, specializing in the installation and assembling of improved cook stoves and selling of portable solar products.
For long, Everlyne earned her keep working as a farmhand, where she would till and help farm owners with all kinds of farm work at a daily fee of KES 150 (USD 1.5). The pay was too little to match up to the intense manual labour the job required. Over time, Everlyne could not afford her basic needs because some of the farm owners withheld her pay, accumulating to thousands of shillings. This is when she decided to quit her job as a farmhand.
Using some KES 400 (USD 4) that she had saved from her job as a farmhand, Everlyne decided to venture into business, selling dried beans harvested from her farm at the local market in her area. To supplement this, she also started selling onions and tomatoes to her clients. The business was stable but the profit she made was still not enough to enable her to cater for the needs of her young family. To make matters worse, thieves one day robbed her, taking away all the money she had worked so hard to make and save.
Everlyne was devastated. She needed to figure out a reliable source of livelihood because her family depended on it.
While I was still contemplating on what to do next, my neighbor informed me about an on-going recruitment by the County Government of Kakamega, seeking to train women on installation of energy saving cook stoves.
This was Everlyne's ray of hope. Even though she had no idea how this business worked, she gave it a try and was selected to be part of the project. Through the initiative, Everlyne learnt and mastered how to install clean cook stoves. She did this for a while until in 2017 when one of the energy entrepreneurs she worked closely with invited her to an energy training facilitated by Practical Action's Women in Energy Enterprises in Kenya (WEEK I) project.
Through WEEK I, Everlyne was trained on how to assemble improved cook stoves and she also started selling portable solar products, which saw her gain profits that she invested in educating her nine children. "The income I used to get after doing installations was never enough. More often my children would be sent home due to arrears but right after I was introduced to solar and assembling business, they have been progressing well and a month ago, three of them sat for their national examinations and will be joining the next level soon" she says.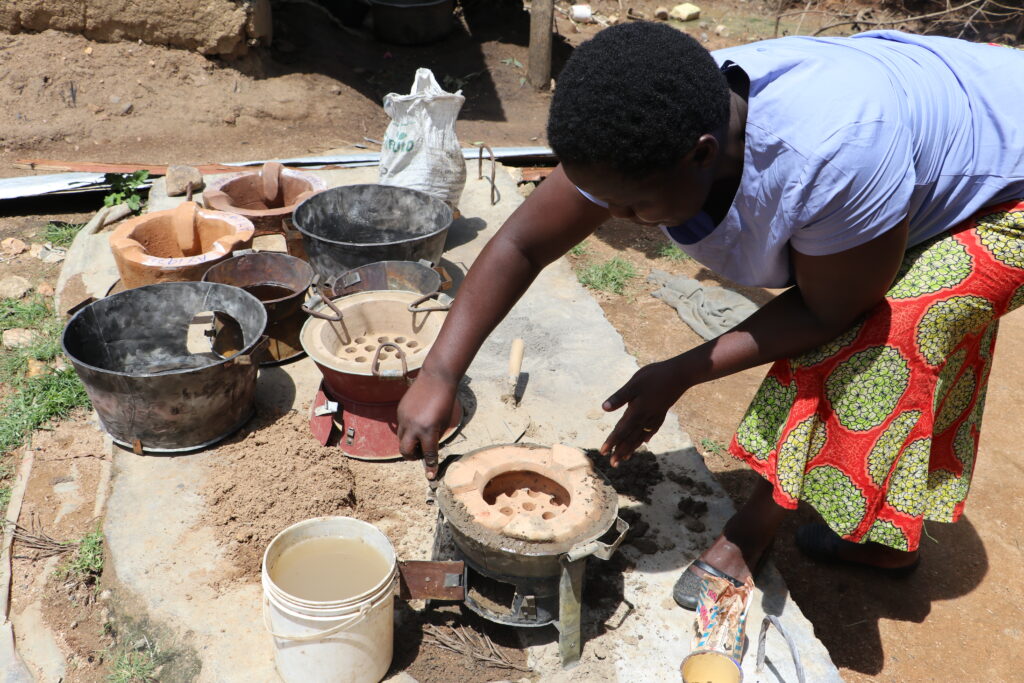 Since then, Everlyne has engaged with Practical Action's energy programming through the WEEK II Project facilitated by ENERGIA. Through this project, she was trained on business development skills, including record keeping and marketing, agency-empowerment and leadership skills. This motivated her to take up leadership positions at her church, where she is an Assistant Pastor, and at the County Government of Kakamega, where she was appointed as the Zonal Agriculture Representative.
In my community, it's perceived that leadership positions should be male-dominated, but after receiving my training, I realized that women too can lead!
Through peer learning training facilitated by the project, Everlyne has also taken an initiative of diversifying into sale of portable improved cook stoves to increase her market share and meet the demand of her customers. She also keeps track of her business by ensuring all her sales records are up to date.
"Through Practical Action, I am now an independent entrepreneur! I am able to make decisions related to pricing and marketing of my products without seeking advice from anyone. My husband is equally proud of me as I have been supporting him in sustaining the family unlike before where I used to look up to him".
As she looks in the future, Everlyne is hopeful that she will be able to diversify in the briquette production value chain. Being part of the County's Agricultural team has made her identify a market among poultry farmers who do chick brooding.