Yoselvina Kune, also known as Mama Selvi, is a Christian priest living in Oekam village, a small village three hours away from Kupang, Indonesia. She is part of Kopernik's Wonder Women Program, an initiative to empower women becoming sales agents of clean energy technologies, such as solar lights, water filters and cookstoves. By selling solar lamps, in three years Mama Selvi reached more than 2,800 people, changing their lives forever. And her mission is not over yet. During the Asia Clean Energy Forum, on June 8, she will share her inspirational experience as Wonder Woman with government representatives, energy practitioners and decision makers, showing how women like her really make a difference, one household at the time.
The sun is rising in Oekam village, a small and remote village approximately two hours from So'e, the capital city of Timor Tengah Selatan (TTS) district. We are nearly three hours away from Kupang, on Timor Island, and here life seems to roll quietly. Kids are playing in the courtyards, men are getting ready to work and women are planning their busy day, while animals are still dozing somewhere. You can feel the dry season is coming, hitting the region with its powerful sunlight, and despite the fresh ocean breeze arriving from East, temperatures are rising. There are seven hundred households all around the village, a big one compared to others, and people know each other as in a typical big, extended family.
Yoselvina Kune, well known as Mama Selvi, is one of the women living in this village. Every morning she wakes up very early, she cooks meals, sets up her household routine and prepares herself for bible study. She is a Christian priest, responsible for a local church in her own village and four more in the district. Her devotion in helping those around her, pushed her to take part to the Wonder Women Program, a Kopernik initiative to spur women's economic empowerment by selling clean energy technologies. The program aims to train women in becoming micro-social entrepreneurs, thus leading to a two-fold impact. By building their skills, not only do women increase their income and confidence to further growth their businesses, but they also influence the community towards the use of clean energy solutions. And on top of that, they contribute to local economy and community development, as women tend to reinvest 90% of their income in health, nutrition, and education of their families, as United Nations stated.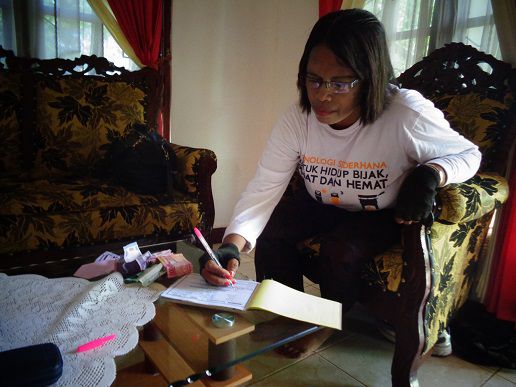 Mama Selvi's experience as Wonder Woman
Mama Selvi is no exception. She heard about this new opportunity when a friend and colleague priest, introduced her to Kopernik. After meeting with Kopernik's Field Officer, she enthusiastically joined the programme in October 2015, selling solar lamps. "It has not been so easy at the beginning", affirmed Mama Selvi, "I studied day and night to know more about this technology I was not aware of before. But I was happy because I knew it would help people. I felt this was the right way". Mama Selvi knows first-hand what living in an off-grid village means, where education of children and economic and family activities end with sunset. By knowing how solar light can make a difference for those living in these villages, she has been motivated to do her part in the energy movement one step at a time. Thanks to her social commitment as Christian priest, she is in an unique position to connect with people, increase awareness on energy services and inspire others to embrace an energy transition path.
I was dazed by learning about Wonder Women Programme. It is really important, ambitious, and challenging for my community.
With her stunning smile and determination towards supporting her community to access clean energy technologies, she travels from one village to another, meeting with people, sharing her experience and informing them about social and economic benefits of using solar lights. Her enthusiasm recently took her far from home, beyond the country border and up to Timor Leste where a priest ordered 20 solar home systems, "a great joy" she said. Mama Selvi, as other Wonder Women, is more than just an entrepreneur. Her commitment has little to do about making money, but rather, is more about changing lives. Embarking on journeys that typically take hours by motorcycle over miles of unpaved roads, where the lack of infrastructures make it difficult to reach extra miles, shaped her passion to become a Wonder Woman even more. And with success. In three years, she has sold and distributed more than 600 units of technologies, reaching at least 2,800 people who otherwise would not have access to light. It makes a piece of her dream come true: Give as many people as possible access to lighting. Inspiration and aspiration are the ingredients of her mission to helping who needed the most.
There is still a very long way to go but I am confident we can make it. People are very enthusiastic with the technology. It helps them saving money normally spent for kerosene, it facilitates education of children and it improves their quality of life.
Energy access in Indonesia
Addressing gender inequality and energy poverty is a top political priority, particularly in the light of Sustainable Development Goals (SDG) which aim to ensure access to affordable, reliable, sustainable and modern energy for all by 2030. A recent report by the World Bank claimed that we will not achieve this target if current trends are not inverted. This is even more the case in Indonesia, where energy poverty hit poorest the hardest, limiting the economic potential of the communities and hindering human development. In Mama Selvi's province electrification ratio is around 53.1%, which is the second lowest in Indonesia – national ratio has reached 92.3% – while the ratio for TTS district stands at around 34%. Access to clean modern energy is critical to the success of global efforts to tackle poverty, especially in Indonesia where 10.64% of the population lives below the national poverty line and in the targeted programmatic locations of East Java the figure is as high as 12% (USD 0.85/day) (BPS, 2017). Besides energy hurdles, women carry the heavier domestic burden and face social, financial and economic barriers to start their businesses. This is where Kopernik's Wonder Women Programme comes into action, addressing these limitations and empowering women to succeed through training on three popular technologies: solar lamps, clean cookstoves, and water filters.