By Fid Thompson, Solar Sister
Meet Omowumi Johnbull, a natural entrepreneur, problem-solver, systems-lover, and Solar Sister dynamic Management Administrator in Nigeria. If we could bottle her energy, it would probably power a nation.
Wumi, as she is known, is from Ondo State in southwest Nigeria, but she has also lived in Edo State and in Lagos. She speaks Owo, Yoruba, Pidgin and English. Read on to learn more about this remarkable woman!
Working to learn
"I grew up with electricity actually, as I stayed with my aunt in Benin City. But when my aunt went to America, I was sent to the village to live with mum. I was 17 and had to leave school. I was so disappointed." But far from growing hopeless, Wumi worked hard to get herself back into school. "I sponsored myself! I was buying and selling corn on the streetside. I helped my mum sell dried corn at the market and she gave me a small commission. I asked for support from aunties and uncles and friends, and sent myself to school." She paid her own way through high school and then relocated to Lagos to hunt for part time work in order to further her education. Working part time jobs, Wumi paid her way through college, studying Business Administration at the University of Lagos.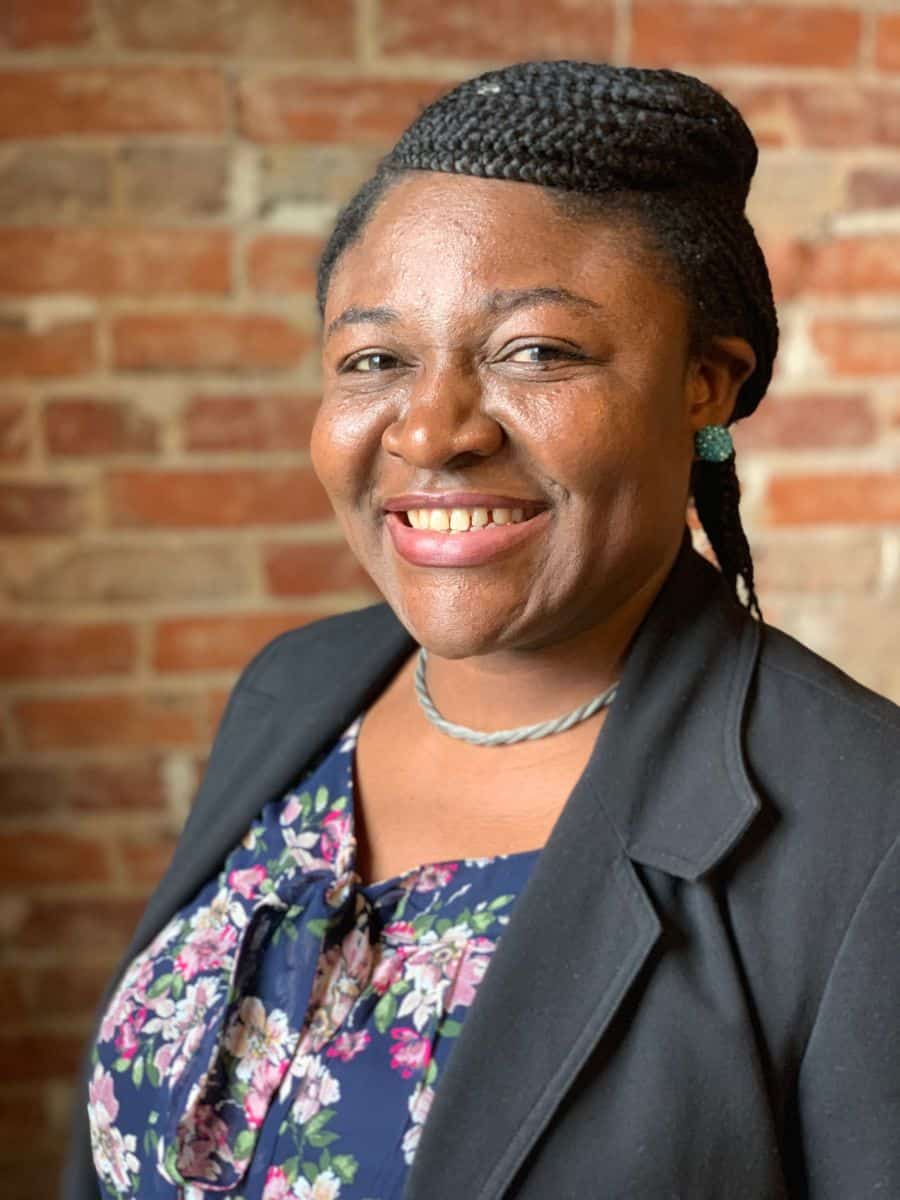 Solar Sister
In 2014, Solar Sister Nigeria saw the amazing potential in Wumi and hired her to work with a small team based in Lagos and reaching across five states. "It felt like an environment where I could have a sisterhood – this was different from places I had worked before. Just women! In Nigeria this is very rare."
Since then, both Wumi and Solar Sister Nigeria have grown and transformed! Solar Sister'sNigeria operations now cover two thirds of the country, with over 25 field staff supporting over 1,300 clean energy entrepreneurs in rural areas.
Women in Tech
Wumi is a true techie and entrepreneurial learner. She loves software, apps and the newest technologies for management, operations and systems organizing. "I love software applications! Taroworks and Salesforce are awesome. When I have an issue that seems impossible, I Google it, studying video guides. Then I go into Salesforce, apply it and resolve the issue. Also I love Google Sheets because it makes my remote work easy." Wumi says that beyond technology, the support from her team managers is also key to learning and growing in her position. "I love everything about technology. I love software applications. I never went to computer school, I just taught myself!"
Working to learn
Her position comes with all the challenges of managing a complex operation across 20+ states in the most populous country in Africa. She is not daunted by this and is always learning. After being promoted from an associate to a management position, she says to have learned a lot about building relationships and understanding people. "I've learned how to deal with people, to know how people work and not always see things from my own perspective. I learned to be open and communicate better."
Wumi now supervises three office staff and runs a tight ship out of Solar Sister's Lagos office, supporting dozens of field staff. She also represents Solar Sister at international events – most recently at the 63rd United Nations' Commission on the Status of Women. "What I love to do most is to solve problems, just figure out issues. I love to get a challenging task and fix it!"
Future dreams
As for her future dreams? Well of course, she has already set up her own business, a travel agency called Triumphant Travels that she runs in her spare time. "In the future, I want to run my own organization! It would be about solutions and solving problems." Until then, we are deeply grateful for the great energy, expertise and experience Wumi brings to Solar Sister in Nigeria, and beyond. Did we mention she also wrote and performs Solar Sister Nigeria's theme tune?
*This piece has been realized for the International Women's Day within the scope of ENERGIA's Empowering Women, Engendering Energy (EWEE) Programme, co-funded by the Swedish International Development Cooperation Agency (Sida) and Asian Development Bank (ADB) and in close collaboration with our partners CRT/N, Energy 4 Impact, Practical Action, TANGSEN and Solar Sister.