Solar Sister Entrepreneur Onyinye Onye Ndimele will be the first to tell you that reliable energy is cause for celebration in the bustling market town of Awka in the Igbo heartland of southeast Nigeria where she lives with her husband and three children.
Electricity was available before, but, without warning, it would go off for days, so no one could depend on it. Imagine the collective sigh of relief by community members when, finally, during the last year, the electricity in the community improved and you could depend on electric lights and an electric stove to cook on.
Unfortunately, the good fortune for the town became a stumbling block for Onyinye. Onyinye sells solar lamps and clean cookstoves. When the electricity was undependable, most people used candles, kerosene lamps, and rechargeable lamps to light their homes and firewood, gas or a kerosene stove to cook their meals. There was a high demand for the clean energy products that Onyinye sold. Onyinye felt like she was helping her community, she was seen as someone to rely on, and her business kept growing.
In 2019 Onyinye was one of the top sellers in her state of Anambra, and, because of this, was selected to attend the all Nigerian Solar Sister Entrepreneur Summit in January 2020. During the Summit, Onyinye was the winner of the best business plan pitch. Onyinye was nervous to speak in front of a crowd but was pleased that she did well.
"Winning the pitch opened my eyes to other opportunities and that there is a need for me to visit more communities and more people. The 'pitching' brought out an aspect of me that I did not know. I learned that I need to move beyond where I am."
Resilience During the Pandemic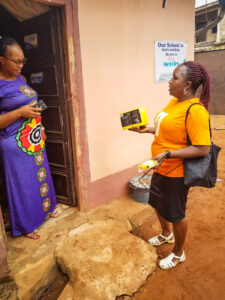 Then the pandemic hit and the following months of 2020 were a struggle for Onyinye. This did not stop Onyinye. Drawing on her own grit and the business and problem-solving skills she had learned through Solar Sister, Onyinye came up with new and innovative ways to make sales.
"I was not able to move from house to house, school to school, and office to office, so I resorted to marketing to sell products online and I made some sales."
Onyinye found that her customer base expanded, despite the pandemic, and she reached customers she would not have been able to otherwise. People beyond her state were contacting her for clean energy products, which also increased her visibility. Former customers referred her as well. "Honestly, the hard work I did earlier is paying off a lot now."
A Family Business
Onyinye and her husband had a new baby in August 2020, adding a third child to the family of four. She was not able to go out during this time with the new baby, but her husband helped with the marketing and deliveries. Business training from Solar Sister continued virtually with lessons on record keeping and digital marketing. This boosted Onyinye's skills.
Electrification Poses New Challenges
Then came the fall of 2020 and the improvement of the town's electricity. Onyinye was now able to go out in town more but found that she would go out for two or even three weeks to market her products and come back home without having sold anything. Products that she could easily sell before, now take six to eight weeks to sell.
Shortly after that, Onyinye's experience with digital marketing hit a snag. Many of the WhatsApp groups started prohibiting marketing on their platforms.
Reaching The Last Mile
In the late spring of 2021, Onyinye decided that the best direction for her to grow her business was to connect with the communities further out that are totally off-grid and have no access to clean energy. This is where she believes she can expand her clean energy business. Trouble is, they are quite a distance, and traveling that far is still not feasible right now.
Working with her Solar Sister business coach, Onyinye came up with the idea to hire sales agents in these communities that are further away. However, she realizes that this takes a lot of trust. One idea she had is to choose one or two communities to pilot the idea to see how it will work. She is looking into her network to see who they know that might be reliable to work with.
Lemonade Out of Lemons
Since the electricity in Akwa is now reliable, Onyinye purchased a refrigerator with her Solar Sister savings and started making and selling tiger nut milk which has to be kept chilled. Tiger nut (not really a nut) milk, is described as a cross between almond milk and coconut milk and is great for people lactose intolerant and has a creamy texture. Selling tigernut milk has been a good boost during this slow time while Onyinye strategizes about her solar business.
Onyinye appreciates the support from her Solar Sister business coach and the Business Booster Training Program for top-performing entrepreneurs that she recently participated in. Onyinye also took advantage of the product loans offered to Business Booster Entrepreneurs, which she says was a huge help.
"The Solar Sister Entrepreneur Business Booster product loan is also a big relief because I still have some big products which seized my business capital. So because my market is gradually drifting into small products I needed money to still stock up"
The product loan has allowed Onyinye to purchase products that she has demand for. Onyinye says that her business coach has been very supportive and she is optimistic that things will improve.
"I have not seen any other organization that provides the level of support to their entrepreneurs or marketers like Solar Sister. I mean I have not seen this."
For Onyinye, this has been a journey of perseverance, passion, and grit. With each obstacle, she has looked deep inside herself and has come out stronger.
I am more confident than I used to be, I no longer think like a victim, I step into the shoes of a businesswoman who has a better understanding of business dynamics.
---
Note the title reflects the 2016 book by Angela Duckworth's Grit. The power of passion and perseverance, which soon became a bestseller. The book explains the four psychological components of grit: they're interested, they practice, they have purpose, and hope.
This story has been developed by our partner Solar Sister as part of our Women's Economic Empowerment Program. It is authored by Joanna B. Pinneo.