By Thabit Mikidadi
"She started raising chickens and ducks when we were living in a rented house" recalls her husband Leonard, recognizing the entrepreneurship zeal his wife has. Rehema has always been active to pursue business opportunities. "I started baking with aluminum placed over burning charcoal over pots and sand when I was young", Rehema confirms .
Rehema is a primary school teacher, a mother of four the youngest being 13. Apart from being a teacher, she runs a successful home-based business in Tanzania baking pastry, keeping chickens and a hatchery. She attributes her entrepreneurship prowess to her unrelenting desire to help her community.
"I have trained several people, including my fellow teachers, some of them have more successful businesses than me. I believe if you empower women you empower the whole community" she says.
Rehema's journey on energy entrepreneurship started when she received an improved charcoal baking oven as a wedding gift in 2005. After that, she attended baking lessons and debuted her business. She makes bread, cakes, and scones and sells them primarily to the neighborhood retail shops, in her school and also supply to weddings and birthday parties. In 2012, she ventured into selling chicks; at that time she did not have an incubator, hence she took eggs, and sent them to incubators. The business succeeded and in 2019, after learning about new incubators that use renewable energy (solar and gas), she decided to buy one.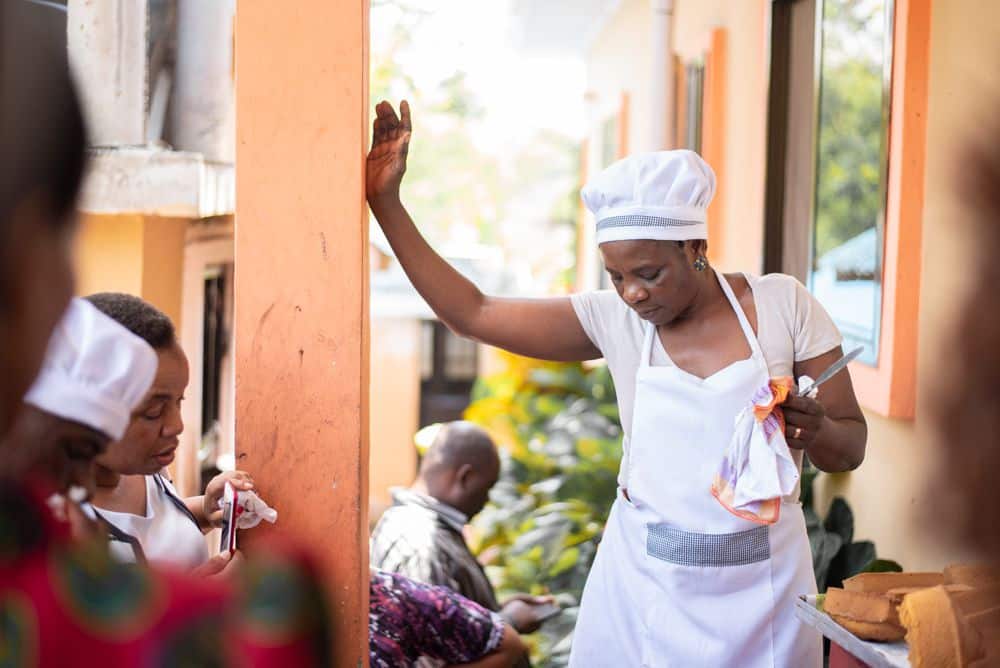 "In the beginning, the incubator was a bit hard to operate but now I have learned to use it and it is very useful. Using solar and gas it is very reliable as I do not rely on electricity". The business of selling chickens has been hard recently due to underperforming markets and she is considering concentrating on the hatchery because the market is performing well.
In Tanzania, the opportunities from renewable energy are immense. In recent years, productive uses of energy have grown in popularity thanks to new energy technologies, such as improved stoves which are efficient in fuel use, and different machines that use solar and LPG that can be installed and operated in homes. That's why different products are produced at home food products (like dried fruits and vegetables), raw materials (like animal feeds and semi-processed food products and dairy), and even exported products (hand made garments and accessories).
Entrepreneurs like Rehema are among the many women who have taken a considerable step to pursue entrepreneurship by using energy in production. Rehema provides a good success story. Even though she has faced several challenges, including finding time to manage her ventures being a teacher, a mother and business owner, Rehema has high hopes for the future. "I plan to open a mini supermarket where I will sell my products. I would also like to finish another house in Msongola so that I can have a larger place to raise chicken". Currently, she is looking into textiles as she sells bedsheets and curtains on weekends.
Rehema is the kind of woman every community needs. She is passionate, focused and energetic. She offers a lesson to other women on how to use energy to change their lives.
*Through its 'Empowering Women, Engendering Energy' project, ENERGIA's partner TANGSEN facilitates connections between private sector actors, such Rema Kabuta, and local government, with the aim of enhancing the opportunities in rural areas of private sector investment in energy.
*This piece has been realized for the International Women's Day within the scope of ENERGIA's Empowering Women, Engendering Energy (EWEE) Programme, co-funded by the Swedish International Development Cooperation Agency (Sida) and Asian Development Bank (ADB) and in close collaboration with our partners CRT/N, Energy 4 Impact, Practical Action, TANGSEN and Solar Sister.