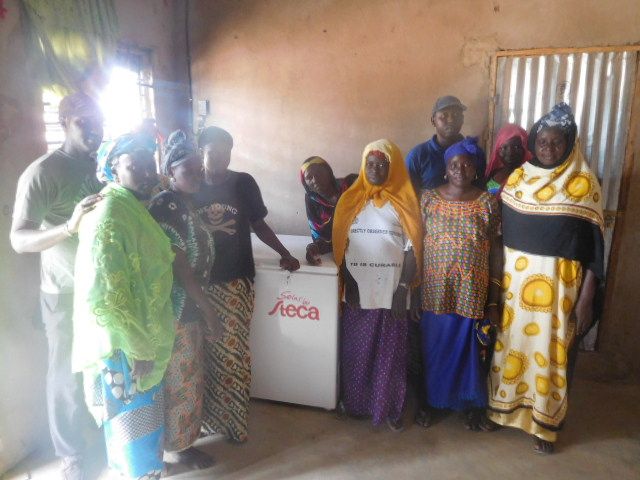 Women entrepreneurs are now benefitting from increased access to solar energy to power their businesses in off-grid Senegal.
Energy 4 Impact and Bonergie, a Senegalese solar equipment manufacturer, have teamed up to make solar fridges available to women-led businesses in the region of Tambacounda, south-east Senegal.
The four businesses own convenience stores selling day to day products to local communities, but have been unable to sell fresh products due to lack of refrigerators.
Access to a reliable and sustainable source of energy can boost the productivity and growth of businesses. The newly-acquired solar-powered refrigeration equipment will open new lines of business such as sale of ice bags, fresh water and fresh dairy products.
Following the installation, Bonergie trained the business owners in order to ensure proper use of the fridges, while Energy 4 Impact set up a financial mechanism to enable them to repay the costs of equipment.
Financing of the fridges was made possible thanks to a protocol established between Bonergie, Caurie Microfinance and Energy 4 Impact: a loan of 75% of the cost of the equipment is granted to the entrepreneurs by Caurie Microfinance, with a decreased interest rate of 15%, while the remaining 25% is provided by Bonergie as credit. It is expected that the entrepreneurs will repay the loan in 2 to 3 years, depending on the nature of their business.
To ensure profitability of the investment, Energy 4 Impact has developed tailored business plans which can also minimise the risk of non-repayment of the loan. The business plans work also as business management tools, highlighting strengths and weaknesses of their activity and possible outlook in terms of sales.
Ongoing business mentorship is being provided by Energy 4 Impact to help the entrepreneurs fully develop their skills on basic accounting, product marketing (quality, price, packaging, accessing new markets, etc.) and to ensure loans are being repaid. Technical mentors are also regularly monitoring the use of refrigerators, as well as providing technical advice.
"It is a challenge to have access to such equipment in remote areas. But thanks to this partnership, shops can now offer their customers a variety of products such as cold drinks, ice and milk," says Abdoul Karim Dosso, Project Manager at Energy 4 Impact.
"There is high demand for refrigerated products in these remote areas, especially for ice during the dry season. Customers will no longer have to travel to bigger towns such as Tambacounda to buy them, as they can now find them at their doorstep!" explains Fatoumata Damba, Energy 4 Impact supported entrepreneur.
As part of ENERGIA's Women's Economic Empowerment Programme, Energy 4 Impact is currently supporting 250 women entrepreneurs in the regions of Tambacounda and Kédougou, Senegal, to expand access to energy products and services and improve their productivity in farming or food processing.