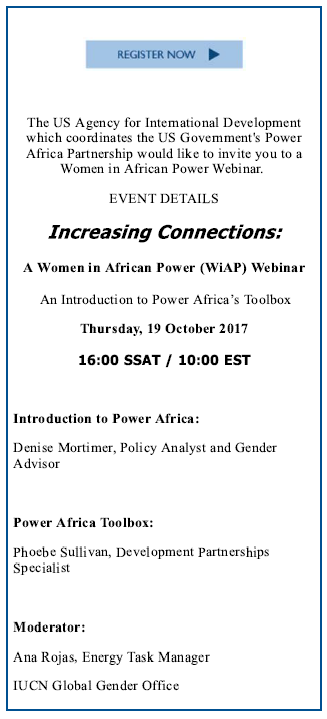 Power Africa launched the Women in African Power (WiAP) network to advance the participation and representation of women within the energy sector across the African continent.
The Women in African Power webinar series aims to share knowledge and build the professional skills of women active in Africa's energy sector.
In WiAP's first webinar, Increasing Connections, participants will be introduced to the Power Africa toolbox, a resource offering more than 100 tools aimed at promoting investment in the African energy sector.
Power Africa is a U.S. government-led partnership, coordinated by USAID, with a goal of adding 30,000 megawatts (MW) of new electricity generation capacity and 60 million new home and businesses connections in sub-Saharan Africa by 2030.
Join Power Africa and Women in African Power (WiAP) for a webinar designed to introduce participants —particularly for women working in the energy sector—to this comprehensive and accessible toolbox.