By Melissa Ruggles/ENERGIA
In her speech leading up to the COP23 in Bonn (6-17 November), Patricia Espinosa, the UN's top climate change official, highlights the need to "significantly increase our efforts to reduce emissions and our carbon footprints," and that "women must be at the forefront" of driving those efforts. Espinosa and others have been busy preparing a Gender Action Plan that is expected to be adopted by member states at the forthcoming COP.
Similarly, in ENERGIA's Gender and Advocacy programme, ENERGIA and partners actively lobby national governments to include gender in their own national action plans. ENERGIA's Sheila Oparocha highlights some of the achievements: "Examples of our influence are the Sustainable Energy for All (SEforALL) country action plans. If you look at Senegal, Kenya, Nepal, and Tanzania—countries we focused on—you find that these plans very strongly include gender. The Ministry of Energy and the Development of Renewable Energy Sources in Senegal have asked our partners, Energy 4 Impact and Enda Tiers Monde, to also support them in translating the gender commitment in the SEforALL country action plan into a concrete gender action plan and to build capacities."
Another central aspect of ENERGIA's work—in line with Espinosa's speech and climate impact-reducing ambitions—is empowering women to become leaders in their communities and entrepreneurs for cleaner energy solutions. One way of doing so is through the Empowered Entrepreneur Training Programme (EETP). In the trainings, women are trained to uncover and embrace their inner agency to start their own businesses selling improved cookstoves (ICS), solar lamps and other green energy solutions.
ICS are shown to reduce air pollution at home and to reduce carbon emissions by reducing the environmental impact of cutting down trees for use as fuelwood. The Global Alliance for Clean Cookstoves reports, "many of today's more efficient cookstoves have been shown to reduce fuel use by 30-60%, resulting in fewer greenhouse gas emissions and reduced impacts on forests, habitats, and biodiversity." Additionally, a World Bank report analysing fuelwood consumption and carbon emissions, estimates "that one improved cookstove saves approximately 634 kilograms of fuelwood per year or about 0.94 tons of carbon dioxide equivalent per year."
Next to ICS, ENERGIA and its partners, like Solar Sister, help drive women's leadership as solar entrepreneurs as well. In many communities where grid electrification isn't an option, off-grid solutions are a must, and solar lanterns offer a reliable, affordable clean energy option compared to kerosene lamps. The lanterns that the women entrepreneurs sell "replace the use of about 600 litres of kerosene, thereby mitigating about 1.5 tonnes of carbon dioxide (CO2) in its 10-year lifetime."[1] In addition to the clean energy, the solar lanterns have multiple socioeconomic benefits for the women and their households.
ENERGIA and its partners are answering the call to tackle global climate change, but naturally more can be done to fund, replicate and scale programmes and projects similar to those ENERGIA and partners are implementing. Supporting women as energy entrepreneurs and leaders in their communities will clearly drive more carbon-reducing solutions faster. We call on member states at the COP23 to recognise the vital roles women do and can play, to commit to including gender in their action plans, and to furthermore fund programmes that empower more women to be a part of the change we all need.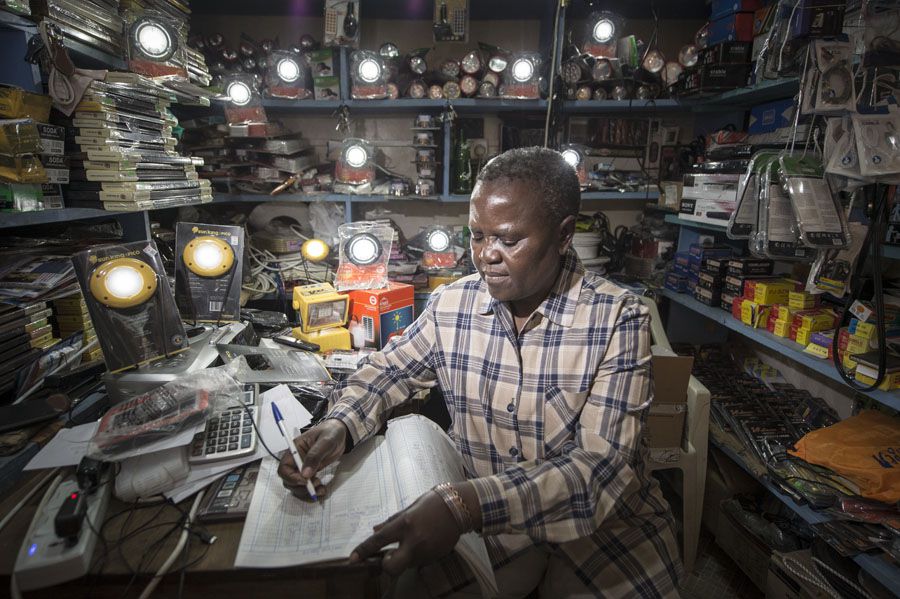 ENERGIA and Hivos are organising and participating in a number of side events in Bonn, including this upcoming Wednesday the 15th where Sheila Oparaocha will be part of the panel together with Rachel Kyte of SE4All and others to present and discuss the launch of the People-Centred Accelerator to Advance Gender Equality, Social Inclusion & Women's Empowerment.
Throughout the COP23, we are actively seeking entry points to influence the climate finance debate and highlighting the need for decentralised renewable energy investments and inclusion of women to achieve green and inclusive energy for all. Our partners' expertise and evidence is vital to influence the various discussions at COP23. Follow our participation in COP23 via this website and on twitter: @energia_org and @hivos