To bridge the gender gaps throughout the energy supply chain and in decision-making groups, ENERGIA, EnDev, Modern Energy Cooking Services (MECS), Hivos and the Swedish International Development Cooperation Agency (Sida), launched the Gender and Energy Innovation Facility (GEIF) in July 2020. The Facility supports pilot projects in Kenya, Tanzania and Nepal that develop, test and evaluate innovative approaches to address the persistent gender energy challenges.
The Nepalese projects have recently come to an end, with a mix of interesting findings and promising results that can be reviewed here.
In this article, we dive deeper into the experience of one of these projects that stood out for its outstanding commitment to identify and implement innovative solutions that empower women in the energy field.
Proactive and not reactive, when it comes to clean cooking
The Women Network for Energy and Environment (WoNEE) in Nepal are at the forefront of implementing positive change for women across the country. As the government aims at ensuring that every household has one induction e-cooker by 2030, WoNEE wanted to maximise this opportunity, aware as they are that with poor planning and a lack of information or education, many government projects that aim to roll out new technologies are in danger of failing.
The Nepalese government decentralised the distribution of e-cooking stoves by using Community Rural Electrification Entities (CREEs) to take charge of the process. WoNEE thus reached out to their own network and wider group of stakeholders to start gathering data about the new developments in policy and policy implementation.
This would help them define which areas they would recruit women to be trained on how to operate and maintain e-cooking stoves, but also repair them.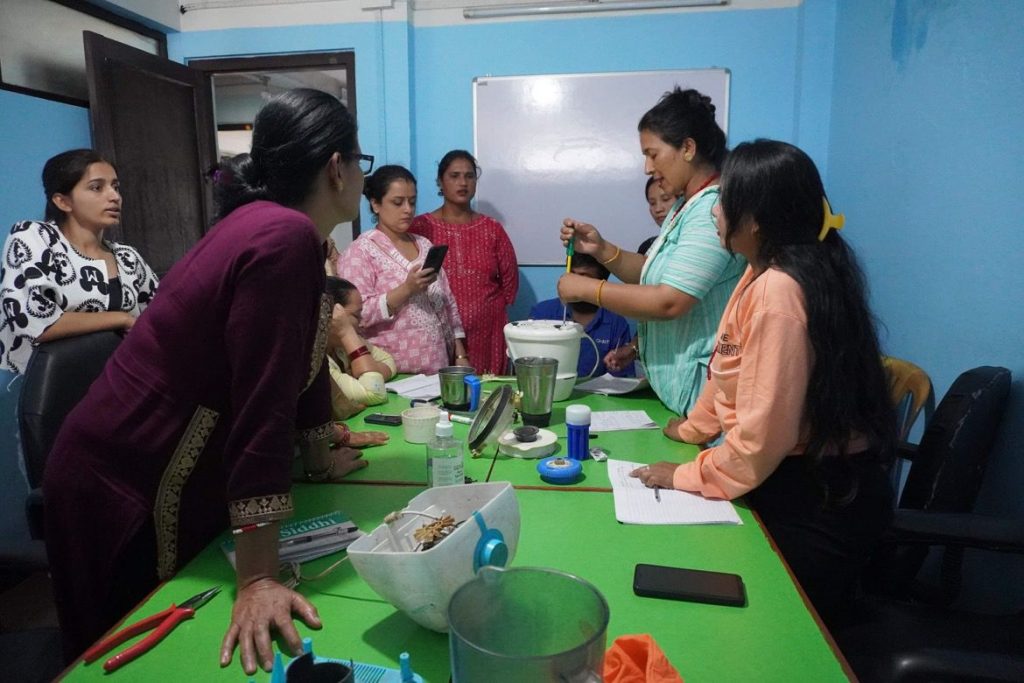 WoNEE got immediate responses from their network when it came to identify interested individuals. They could start planning where to recruit potential trainers from. They already knew there was a high prevalence of e-cooking stoves in larger places such as Kathmandu, Lalitpur and Bhaktapur, however, it was the feedback from Community Rural Electrification Entities (CREEs) that narrowed down their rural search. Mahankal and Konyyosom Municipality were in the process of distributing 3200 stoves, and Dhading and Chitwan districts had 5000 to distribute.
WoNEE targeted these areas to attract ten women who ran or worked in electrical goods stores, with no previous specific experience or knowledge required. Since cookstoves were new in the area, the women would have the time to receive training and practise their skills before the service was necessarily needed on the market.
Promote and educate
Despite having to split the group into two for the training, to meet Covid requirements, WoNEE successfully trained 21 women from all over Nepal in a week-long residential program. As aforementioned, the main goal was to equip the women with the skills to maintain and repair the cooking stoves, whilst ensuring that the women left confident and willing to promote their new services. The women were extremely happy to have been on such a training program, and the common feedback was that they would be interested in more training along these themes in the future.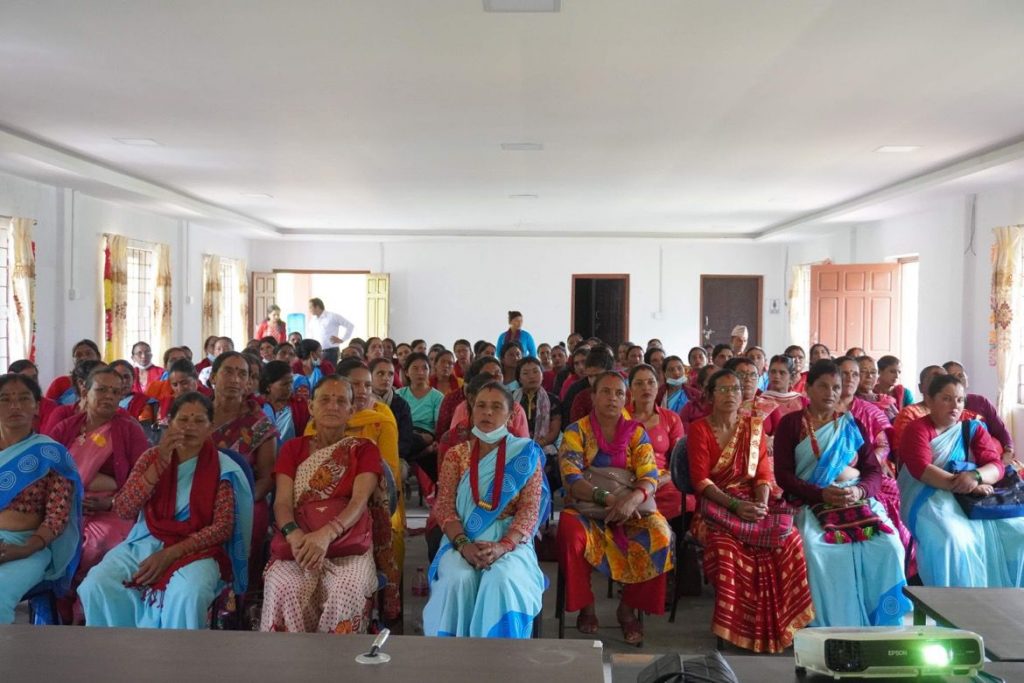 A few months after the initial training, the women had the chance to test out their skills and were invited back for refresher training to refresh their knowledge but also to work on the confidence of those who had received only a few queries for repair services.
At the end of this training, WoNEE handed out specially made plaques that the women would be able to install or mount outside their shop. This 'visible certificate' was well received, and added more substance to what they were doing. WoNEE was committed to showing that women can repair electrical goods, and can be trusted doing so. In order to keep promoting such a message, WoNEE reached out to the local and national press, and gave a number of interviews, further increasing the women's confidence.
Track, measure and improve
WoNEE knew that all the training is irrelevant if no one is accessing the services, and introduced a log book after the refresher training, to be able to have greater insight into how the project was proceeding. The logbook tracks all the women that attended the training, and is filled in by WoNEE. They set up a WhatsApp group with all trainees to enable communication and support between the shopkeepers, but also for them to easily report on their numbers.
After a couple of months of logging activity, WoNEE could see the different types of requests customers were making. There were a few repairs, but also a number of operational support questions, and some shopkeepers were even able to sell either an e-cooking stove or utensils connected with the induction cooker.
At the same time, the women shared in the WhatsApp group one potential pitfall, related to access to spare parts. The project looked at how the WoNEE team could order spare parts in advance, and then be ready to send them out when necessary. The logbook could also help them plan ahead once they had tracked data for six months, as certain patterns were repeating.
With certain women having a lot more repair requests than others, WoNEE was also able to provide tips and tricks to support the others. In the space of four months, the number of requests for repairs has now tripled, and WoNEE continues to support all the women to further promote their business.
Jill of all trades
With repairs, maintenance and orders growing slowly, WoNEE ran a "Train the Trainer" workshop. 3-5 months after the original training. This would enable certain women to go into further rural and remote areas of Nepal and train others, but WoNEE saw other opportunities too.
Thanks to the close communication and family feel that they had created with these women, WoNEE opened up conversations on further training and the impact they could have. The feedback was that the women wanted to learn to repair other electrical products in their stores. The women felt that they could undertake such training, with their confidence improved and the current repair work going smoothly.
WoNEE developed a plan for scale-up funding and delivered this new training, following which the women are now also able to repair kettles, rice cookers and blenders. One store owner increased her income by 10% in August alone.
WoNEE also engaged the new trainers in promoting clean cooking and the safe use of appliances across Nepal in five districts: Nawalparasi, Kavre, Lalitpur, Bhaktapur, and Rupandehi. Each session saw a great turnout and the attendees left with greater knowledge of how to use appliances and what clean cooking appliances were available.
These trainees are now advocates of clean cooking, sellers of equipment, instructors of how to use it and equipped with enough knowledge to repair. They are visible in their local communities as experts in clean cooking, and they are slowly becoming the one-stop shop for all electrical items.
To learn more about this project, check out the visual presentation below: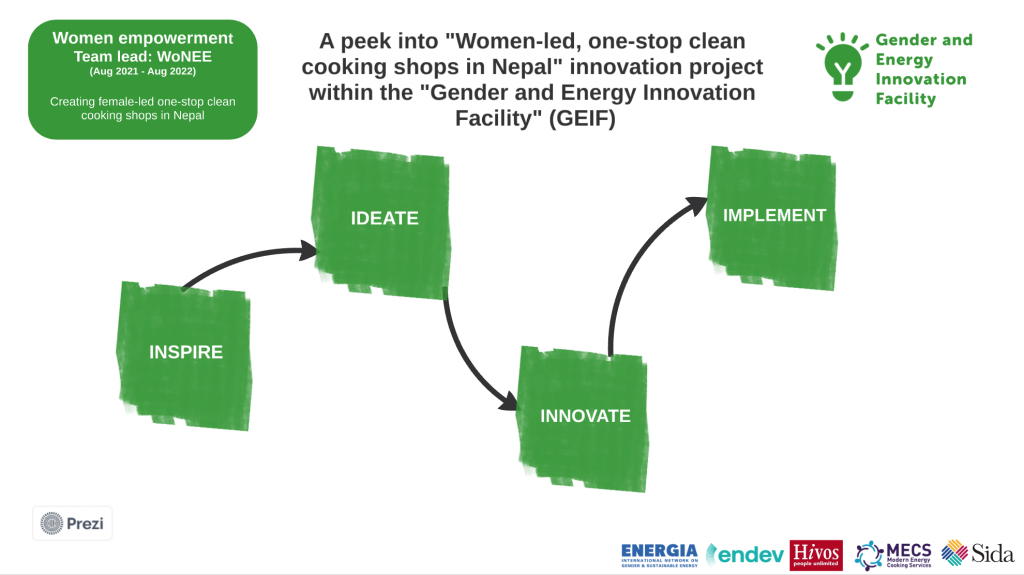 Photo details:
1 and 2. Training for women (Photo Credit:Swasti Aryal)
3. Awareness Programme (Photo Credit: Swasti Aryal)