In late 2020, Senegalese entrepreneur Awa Sene was struggling to keep her cold trade business afloat amidst setback after setback. Pandemic-related restrictions led to a sharp drop in sales, and equipment malfunctions put a further strain on her cash flow. She was at the point where she had no choice but to put her cold trade business on hold.
Sene slowly began to get her business back on track, but knew she needed outside support to truly scale up and expand her business. Fortunately, technical assistance from Energy 4 Impact and a cash donation from Hivos/ENERGIA's COVID-19 Solidarity Fund came just when she needed it most. With their support, she was able to purchase a second-hand solar-powered freezer and new batteries.
"This gift is a lifeline for entrepreneurs like me who have ended up hitting a wall despite working so hard."
Eventually, she began serving up to 360 customers each day, meeting local demand for high quality fresh and frozen foods, and even employed a neighbor. Importantly—she's excited to see what the future holds.
"I'm where I wanted to be a year ago before the pandemic derailed my expansion plans," Sene said. "I'm looking forward to fulfilling the potential of my business at last."
Sene's experience is just one success story of numerous brought about with support from ENERGIA's Solidarity Fund. Many entrepreneurs around the globe suffered greatly as the COVID-19 pandemic disrupted lives, businesses, and markets. In response, ENERGIA enacted the Solidarity Fund through a legacy and crowdfunding campaign, donating more than 250,000 euros to provide a much-needed lifeline for struggling female-led energy businesses in Nepal, Senegal, Kenya, Tanzania, and Nigeria.
Amidst the upheaval of the COVID-19 pandemic, many financial institutions stopped providing loans to female-led businesses, making it hard for them to access much needed capital. The Solidarity Fund's overall objective was to provide critical support to female-led energy businesses during this time, helping them recover from pandemic-related challenges and strengthen their businesses for the future. The fund aimed to help businesses in a few key ways: adopting and accessing technologies that would increase their chances of business success, growing their income, improving their access to markets, and increasing their use of mobile banking and other digital services. As time passes, it's clear that the Fund has benefitted recipients in numerous ways: recipients have been able to replace equipment, purchase and adopt new technologies, increase their income, and meet fluctuating market demands.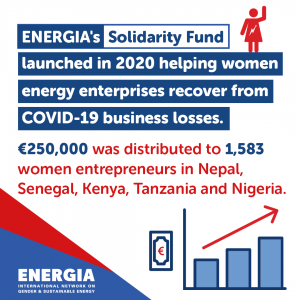 Overall, the Solidarity Fund positively impacted more than 2,500 lives, including 1,583 women entrepreneurs. Through ENERGIA's work with Energy 4 Impact alone, the Solidarity Fund has helped revive nearly 70 enterprises led by 280 women entrepreneurs, enabling them to invest in new technologies, replace defective equipment, rebuild their supplies of raw materials, and pay debts owed to creditors.
Energy 4 Impact recently conducted an impact study to take a detailed look at how the COVID-19 Solidarity Fund affected 59 of the 70 women-led businesses who were part of ENERGIA's Phase 6 Empowering Women, Engendering Energy Program in Senegal.
The study reveals that cash donations from the ENERGIA Solidarity Fund through Energy 4 Impact in Senegal have a number of benefits for women entrepreneurs. With this type of support, the women involved are able to:
Generate growth: Among women entrepreneurs who received support from the Solidarity Fund, average monthly business turnover grew more than 300% and average monthly profit increased from 27 euros to 223 euros. Among one segment of entrepreneurs, women involved in market gardening, profits increased more than 600%, on average.
Repay debts: With financial support from the Solidarity fund, many business owners were able to repay debts to creditors. This support increased the repayment rate from 50% before the fund was made available to 66% afterwards. Additionally, 60% of women entrepreneurs have been able to make regular payments since receiving support from the Solidarity Fund.
Purchase important business inputs and materials.

53% of women entrepreneurs who received money from the Solidarity Fund used the money to buy seeds, fertilizers, and other small materials needed for their business.
Among women entrepreneurs with solar freezing businesses, 62% said that without support from the Solidarity Fund, it would be very difficult to continue business due to a lack of raw materials.
Eleven out of sixteen women with market gardening companies said that support from the Solidarity Fund helped finance inputs needed to keep their businesses afloat, as well as to take care of their agricultural workers.

Own their equipment. After paying off their debts with monetary support from the Solidarity Fund in 2021, nine women-led enterprises were able to obtain ownership of their solar technologies.
Achieve more financial freedom. After paying off debts, women entrepreneurs reported having more freedom to invest in their businesses and families.
Increase their savings. Many women business owners struggled to save money due to the pandemic. With support from the Solidarity Fund, women across industries were able to increase their savings capacity.

Among women in the solar freezing industry, average monthly savings capacity increased from 0 euros to 35 euros per month.
Among women in the market gardening industry, average monthly savings increase from 0 euros to 139 euros.

Return to business. Women across industries were forced to put their businesses on pause due to all the upheaval brought about by the COVID-19 pandemic. But many were able to resume business activity thanks to support from the Solidarity Fund.

20% of the beneficiaries of the Solidarity Fund were able to resume business after using money from the Solidarity Fund to replace defective equipment and other important business materials.
97% of women were either satisfied or very satisfied with support from the Solidarity Fund. For many, the money allowed them to buy raw materials to restart an activity that had slowed.

Avoid bankruptcy. Three in five women interviewed reported that they would have had to file for bankruptcy if they had not received monetary support from the Solidarity Fund.
Increased resiliency. One-hundred percent of women entrepreneurs surveyed said their resilience has been strengthened thanks to support from the Solidarity Fund. Resilience among this demographic depends on many factors, including their ability to stay in contact with customers and suppliers, save money, and diversify their business.
Adapt to challenging business climates. Three in five business leaders surveyed have learned important and valuable lessons about the pandemic's impact on their business and have been able to adapt the way they operate their business accordingly.
Develop digital communications skills. The Solidarity Fund also provided 59 women entrepreneurs with a digital tablet. The women learned how to use digital tools to access and share information about their businesses in real time, as well as how to use social media and other digital marketing channels to gain visibility and seek out new customers.
---
To read more about the Solidarity Fund click here, to access Energy 4 Impact's final findings click here, here and here.